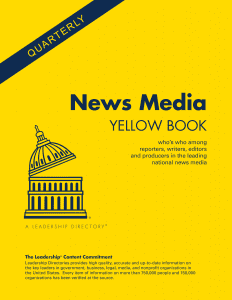 The Summer 2018 edition of the News Media Yellow Book has been completely updated to reflect key changes that have taken place since the publication of the Spring 2018 edition.
Shipments began June 20, 2018.
The News Media Yellow Book features news services, newspapers, networks, television stations, radio stations, independently produced programs, periodicals, non-U.S. media outlets with bureaus in the United States, publishers, and independent journalists and columnists.
Order your copy today or request a sample page.
Key Personnel Changes
The following are some of the more important changes that have taken place since the Spring 2018 edition:
News Services
At the Associated Press, Adam Schreck was named Asia-Pacific News Director, based in Bangkok. He was previously Baghdad Bureau Chief. Nancy Benac was named was named White House Editor after serving in the position on an interim basis since last fall. She was previously White House Correspondent. Scott Mayerowitz was named Deputy Business Editor for Storytelling.
At Bloomberg News, Joanna Ossinger was named Editor of the cross-asset group, covering markets on the global level. Geoffrey Smith was named Europe Finance Editor. He was most recently Europe News Editor at Fortune.
Wendy Benjaminson, previously at the Associated Press, was named White House and National Policy Editor at the McClatchy Company, based in the Washington bureau.
At Thomson Reuters, Kari Howard was named Storytelling Editor on the Reuters global Enterprise team, based in London. Joe Bavier was named Africa Business Correspondent, based in Johannesburg. He was previously a member of the Monsanto reporting team. Libby George was named Oil and Companies Correspondent, based in Lagos, Nigeria. She was previously Senior Energy Correspondent based in London. Omar Mohammed was named East Africa Correspondent, based in Nairobi. He was previously at Quartz.
Newspapers
Glenn Cook was named Executive Editor and Vice President of News at the Las Vegas Review-Journal. He succeeds Keith Moyer, who was Editor-in-Chief before being named Publisher.
At NBC, Nicholas Rasmussen, former director of the National Counterterrorism Center, was named National Security and Intelligence Analyst.
At the New York Times, Jyoti Thottam was named Op-Ed Writer to cover business and economics. Mara Gay was named Lead Editorial Writer on the Editorial Board, covering state and local affairs. She was previously City Hall reporter for the Wall Street Journal.
At The Post & Courier, Charles Rowe retired as Editorial and Opinion Page Editor. Rick Nelson, previously Managing Editor, succeeded him.
At The Washington Post, Dan Eggen, previously White House Editor, was named Washington Editor, overseeing both White House and Congress reporters. Deputy White House Editor Dave Clarke succeeded Eggen as Editor. Donna Cassata, Deputy Congress Editor, was named Congress Editor.
At the Toledo Blade, Kurt Franck was named President and General Manager of Business Operations. He continues in his role as Executive Editor of the paper.
Maribel Perez Wadsworth was named Publisher of USA Today, succeeding John Zidich, who retired. She was previously Associate Publisher. She will continue in her position as President of USA Today Network.
At the Wall Street Journal, Kate Linebaugh was named Deputy U.S. News Coverage Chief. Alex Frangos was named Europe Finance Editor, based in London. Frangos was previously Heard on the Street Editor for Europe.
Networks
At ABC News, "Good Morning America" anchor Amy Robach was named Co-Anchor of "20/20." She will continue to report for the network
At CBS News, Caitlin Conant, previously Executive Director for Communications, was named Political Director. She succeeds Steve Chaggaris, who left the network. Margaret Brennan, previously White House and Foreign Affairs Correspondent, was named Host of "Face the Nation." Brennan succeeds John Dickerson, who left the program earlier this year to anchor "CBS This Morning."
Tyler Mathisen was named Vice President of Event Strategy at CNBC. He will continue to host "Power Lunch" alongside Sara Eisen, Mechelle Caruso-Cabrera, and Melissa Lee, but not "Nightly Business Report." Bill Griffeth succeeded him in the role. Brian Sullivan was named Anchor of "Worldwide Exchange." Wilfred Frost joined Kelly Evans as Co-Anchor of "Closing Bell."
CNN launched a new program called "Cuomo Prime Time," hosted by Chris Cuomo. Succeeding Cuomo at "New Day" is John Berman, previously an Anchor for CBS Newsday.
TV Stations
Tom Cibrowski, former ABC News Senior Vice President for Programs, News Gathering and Special Events, was named President and General Manager of KGO-TV.
Debra O'Connell was named President and General Manager of WABC-TV.
Derek Dalton was named President and General Manager of WBBM-TV.
Periodicals
Rebecca Troyer, previously Editor of the Triad Business Journal, was named Editor of the Denver Business Journal.
Paul Smalera, previously Ideas Editor at Quartz, was named Executive Editor at Fast Company. He succeeds Noah Robischon.
Andrew Sollinger was named Publisher of Foreign Policy. He was most recently Vice President, Subscriptions for Business Insider.
Richard Dorment, most recently Senior Editor at Wired, was named Editor-in-Chief of Men's Health. He succeeds Matt Bean, who left the magazine in January. David Zinczenko has been overseeing the magazine in the interim.
Tim Taliaferro, Editor-in-Chief of Texas Monthly since 2016, was named Chief Innovation Officer. Richard A. Oppel, previously Ombudsman, replaced him on an interim basis. Carlos Sanchez was named Politics Editor. Megan Creydt was named Digital Managing Editor.
Susan Glasser was named Staff Writer at The New Yorker. Glasser was the founding editor of POLITICO Magazine, and most recently Editor of POLITICO.
Brian Bennett, previously White House Reporter at the Los Angeles Times, was named White House Correspondent at Time magazine.
Kira Pollack was named Deputy Editor of Vanity Fair. She was previously Deputy Editor of Time.
Non-U.S. Media
Financial Times Columnists Janan Ganesh and Edward Luce took on new roles. Ganesh was named Chief U.S. Political Commentator and will move to Washington; Luce was named U.S. National Editor. 
Michael Brunt was named Chief Operating Officer and Publisher of The Economist. He was previously Managing Director and Chief Marketing Officer for Circulation. Soumaya Keynes was named U.S. Economics Editor, based in Washington.
Publishers
Gemma Postlethwaite was named CEO of SourceMedia, succeeding Doug Manoni.
Michael Ferro retired as Chairman of Tronc following the sale of the Los Angeles Times. Tronc CEO Justin Dearborn was named Chairman in his place.