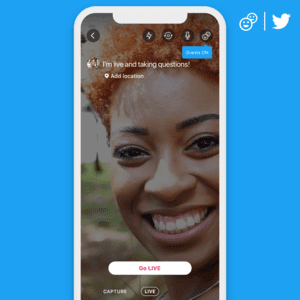 Audiences have enjoyed live television for decades, so it's no surprise that as technology advances, live-streamed content is taking hold. In fact, live-streamed content on social media platforms is on track to become a major source of news for younger generations.
Perhaps avoiding missteps by other social media giants, Twitter hopes to lead the charge as this mode of information-sharing continues to evolve. The San Francisco-based company has formed several comprehensive partnerships with top content publishers. This move should increase live-streamed content on Twitter, as well as bring in new audiences.
The partnerships were announced at the Digital Content NewFronts in April by Twitter Global Vice President and Head of Content Partnerships, Kay Madati, and Vice President of Twitter Global Client Solutions, Sarah Personette. At the event, Personette emphasized the importance of premium video content as "the way for brands to move at the speed of culture and connect to the most valuable audiences when they are most receptive." Fittingly, many of the content partnerships that Twitter has created will focus predominantly on live-streamed video content. Twitter and Univision, for instance, will work together to provide content for Spanish-speaking audiences in the U.S., offering coverage of the 2020 election, soccer highlights, reality TV, and Latin music award shows.
In keeping with Twitter's goal to emerge as the primary medium through which global conversations occur every day, its new content deals involve publishers with various distinct subject focuses. For instance, Twitter will expand upon existing partnerships with major sporting networks. The NFL will offer exclusive live shows to Twitter viewers and will offer Q&As and fan polls. ESPN will also provide live content to Twitter in the form of a brand extension called "ESPN Onsite." MLS, The Players' Tribune, The Bleacher Report, and Blizzard Entertainment are teaming up with Twitter to bring video content to users as well.
Additionally, The Wall Street Journal will stream original reporting to Twitter users via its new franchise, WSJ What's Now. CNET and TIME will also stream video content on Twitter. Bloomberg's platform, TicToc – which was, in 2017, the first publisher to partner exclusively with Twitter – has expanded its presence and its real-time coverage of global events such as the G20 Summit and the United Nations General Assembly (UNGA) on the site.
TicToc, which often goes live on Twitter with major breaking news, demonstrates the rapidly increasing reach of short video content and live-streamed video content, having expanded after its first year to Instagram, Facebook, YouTube, airport screens, and its own website. Bloomberg hopes to turn TicToc into a "fully fledged media network." So, while there's no telling how exactly media will progress, the next few years will likely show an increase in live-streamed content on all of these platforms and more.
Of course, another major play for Twitter will be monetizing engagement. It turned its first-ever profit last year.