Leadership Connect
Our flagship product helps you advance your policy or sales goals
Develop strategic relationships for business development
Discuss bills with the legislative assistants responsible for the text
Track people who move across government, business, lobbying firms, or media
Influence and sell across more than one vertical
Thousands of clients trust their reputations to our people intelligence, which is available nowhere else.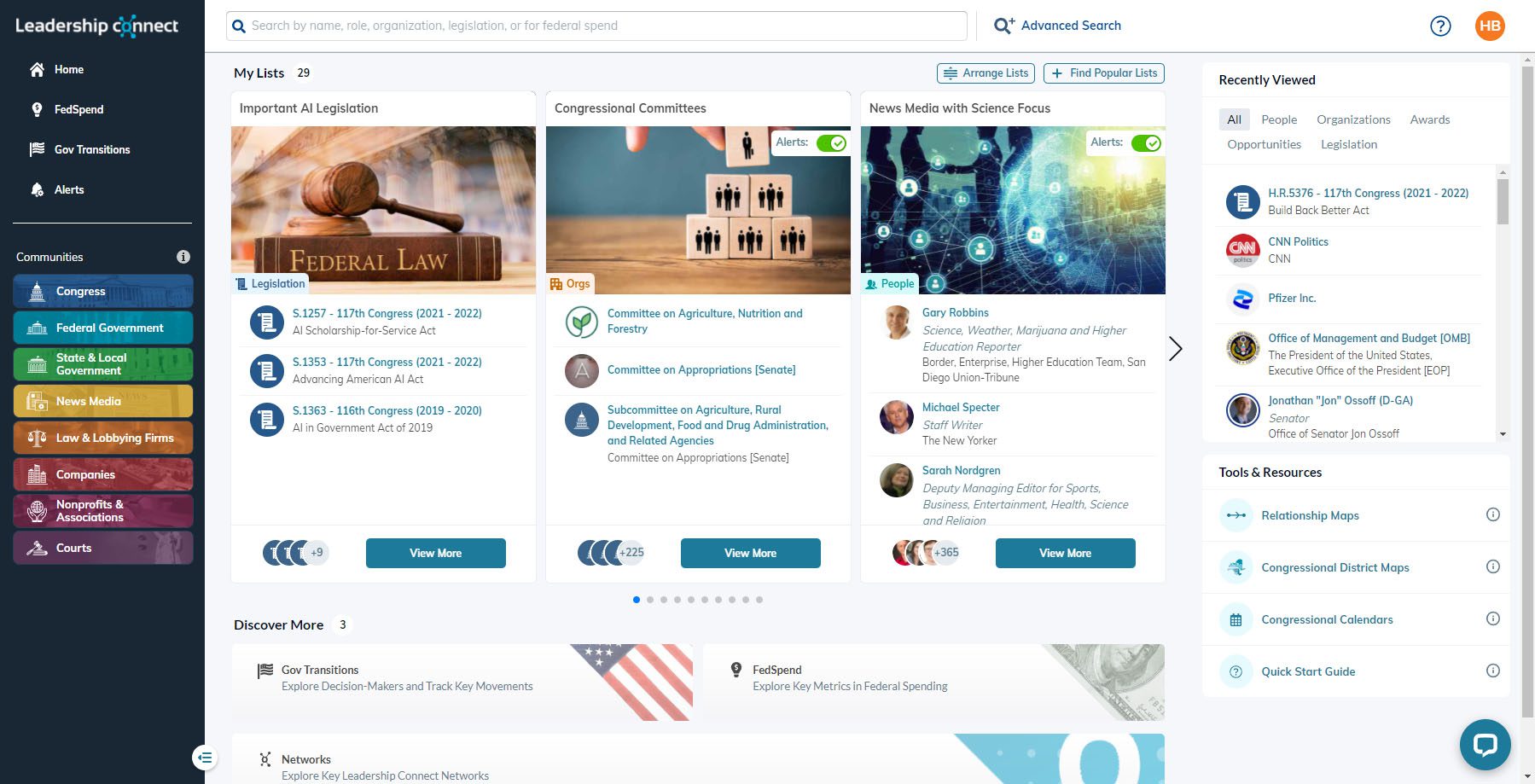 Leadership at the Most Important Organizations
Presidential Appointees · Legislative Staff · Communications Directors · IT Leaders· Federal Policy Makers · Schedule C · Producers · Journalists · Lobbyists · Board Members · C-Suite · Purchasing Managers · Law Clerks · Governors' Chiefs of Staff · Heads of State Education Departments · Federal & State Judges · Executive Assistants · Movers & Shakers
Congress · The White House · Federal Departments & Agencies · Major Law & Lobbying Firms · Top Companies · Embassies · Courts · Think Tanks · PACs · TV Programs · Chambers of Commerce · Local Government Services · State Legislature · Caucuses · Campaigns · City Councils · Colleges & Universities · Boards & Commissions
Proprietary Data Available Nowhere Else
The Only Service With 8 Communities
Every congressional position including committee and caucus memberships, chiefs of staff, legislative directors, legislative assistants, communications directors, press assistants, schedulers, and more
Leadership Connect exclusive:
Full reporting structure
The only service to connect bills to the legislative staff responsible
Find staffers by legislative issue, and based on the activities of the members of Congress they work for, including committee or subcommittee roles, and caucus memberships
Full profiles for their nongovernmental roles and career history- current nonprofit affiliations, previous private sector jobs, and who they have worked with closely
Selected by the Government Accountability Office (GAO) as the gold standard
Department & agency leadership, CIOs, purchasing contacts, career and non-career SES appointees, advisors, program managers, policy-makers, deputies, directors, and assistants
Depth: Interactive org charts cover 30,000+ federal offices with 15 levels of hierarchy. Contact IT, human resources, communications, operations, acquisitions, and financial officers for every department, independent agency, and office, including the EOP and all military branches.
NEW: Shape the opportunity with FedSpend. Identify the influencers behind procurement, view federal spend analysis, track recompetes, and get RFPs tailored to your offering.
Detailed profiles of elected officials, chiefs of staff, city managers, CFOs, IT decision makers, appointees, attorneys general, police chiefs, state legislators and city council members, department heads, and many more
Improve state & local government business development by building relationships in governors' and mayors' offices.
Or boost your influence with strategic outreach to state legislators.
Depth: Find government officials, legislators, and their staff in all states, cities > 10,000 population, counties >200,000.
1,000 top IT roles including Chief Information Officers
17,000 City Council and County Council members
2,500 Mayors and County Executives
4,000 Sheriffs and Police Chiefs
Org charts visualize reporting structure so you can develop relationships with the right influencers in municipal and state governments.
All key journalists at national & regional outlets, plus popular online media — including editors, reporters, producers, guest bookers, columnists, bloggers and online journalists, researchers, hosts, and senior management
Depth: Search by beat, regional bureaus, media outlet, education.  View listings for media outlets, displaying journalists, editors, writers, and reporters broken out by bureaus/desks, with full contact info, beat, notes, and social media accounts.
Managing partners, C-suite, practice heads, executives, and administration at Am Law 200 law firms and lobbying firms with major clients
Depth: Search across law firm headquarters, branch offices, committees, and practice groups.
Filter by attorney practice area or location. View contact details, biography information, and lobbying clients.
Board members, C-level executives, department heads, and government affairs leaders at the 1000 largest companies
Plus influential corporate leaders with roles in government or nonprofit organizations
Depth: Precise tagging of roles within IT, legal, sales, HR, finance. Deep biographical profiles for C-level executives and board members include detailed career information, other current positions, and outside affiliations. Unique hierarchical presentation of parent companies shows the levels of ownership for subsidiaries and divisions, so you can easily find out "who owns whom."
Federal and state representation sections show which firms and individuals lobby for the companies.
Nonprofit industry decision makers including board members, executives, government affairs, and administration
Access to the top 1,000 associations, think tanks, foundations, colleges and universities, the top 450 charities, and more
Depth: Discover who nonprofit board members know, build coalitions of experts at think tanks, and strengthen relationships with influencers.  Filter by area of expertise, job title, career history, and more to find the contact information and biography details for the leaders you need.
Desktop
Web-based SaaS with extra power to create targeted groups
Leadership Networks
Actionable Relationship Analysis