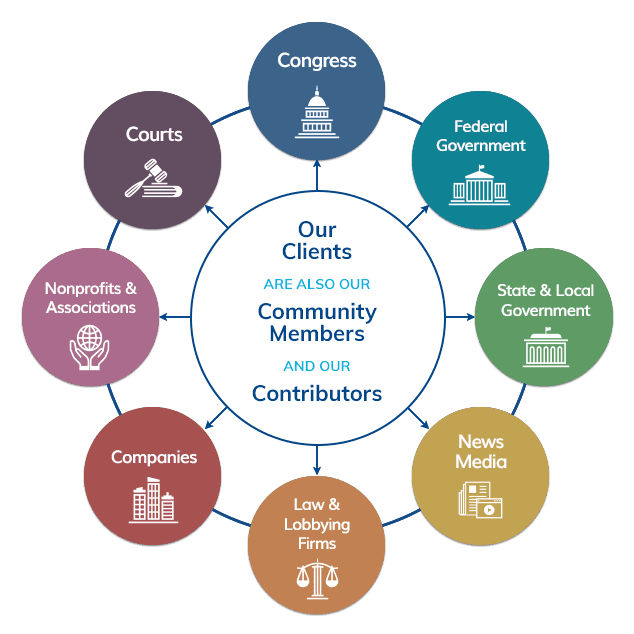 Government communities help influence policy. Develop strategic relationships and respond to fire drills.
Build coalitions with think tanks, nonprofits, aligned corporations.
Increase public awareness with journalists, producers, and media executives
Leadership Connect is the #1 trusted source for connecting policy professionals to the right people in government.
"Leadership Connect is by far the most reliable and accurate public affairs solution. It has been my go-to for almost two decades and allows me to stay connected to colleagues and decision makers in Washington."

James Hunter

Senior Director, Government Affairs, Bombardier
Request a Demo
Problems We Solve
From Reacting to Critical Changes, to Fly In Meeting Prep, to Long Term Strategy
Identify the legislative staffers and federal officials responsible for policy
The world's only service that connects bills to legislative staff
View a member's top policy interests and previous bills
Track bills through introduction, committee discussion, and votes
Collaborated with Congressional Research Service (CRS) to create intelligence that's easy to understand and take the next step
"Leadership Connect is the tool that ensures my clients and I can identify and reach key contacts – in Congress, the Administration, in industry both inside and outside the Beltway – when we need to."

Jason Briefel

Director of Government Affairs - Shaw Bransford & Roth P.C.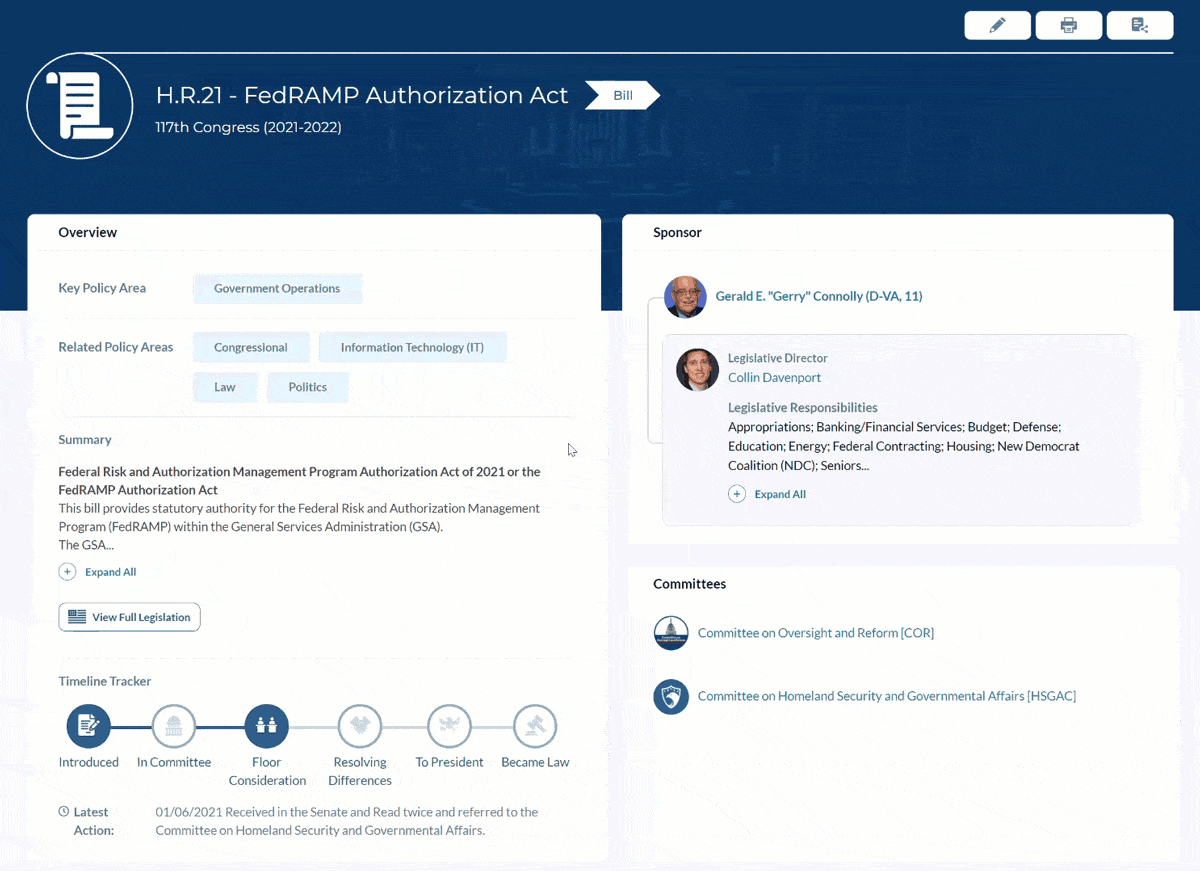 Stop Searching, Start Finding!
Google and LinkedIn won't help you
Leadership Connect includes data available nowhere else
Simple interface that requires no training
Find the right person in government, with data you can trust
Create targeted lists for outreach and tracking moves
"I use Leadership Connect several times a week to find vital legislative contacts. The information is robust and always very current. Leadership Connect is very easy to use and has a Google-like simplicity."

Ed Voigt

Chief, Public & Legislative Affairs - U.S. Army Corps of Engineers, Philadelphia District

"As a small government relations firm, I needed a timely, accurate online tool to help track key changes on Capitol Hill and within the Executive Branch, to ensure I could effectively serve my technology clients. Leadership Connect is an indispensable resource for me."

Mike Hettinger

President & Founding Principal, Hettinger Strategy Group
Navigate complex government organizations: Federal, State & Local
Full reporting structure for government organizations — even transition teams
Connect with a supervisor or direct reports
"As a government relations professional, I find Leadership Connect to be an invaluable resource. The government agency data is the most up to date available and the organization charts are extremely useful."

Daniel F. C. Crowley

Partner, K&L Gates
"I now run an international alliance that needs to engage with policy makers. I was blown away when I saw the capabilities of the new platform. The depth and breadth of the data is kind of amazing, and the intuitive UX makes for seamless navigation. Leadership Connect is an outstanding value for anyone trying to make a difference in Washington, DC."

John Lawson

President, Convergence Services, Inc.
"We could not have gotten this wealth of information elsewhere. Thank you."

Cody Gibbons

Vice President, Gibbons & Company
"Leadership Connect covers the entire public sector, including who the key decision-makers are, where they sit within the organization, the reporting structure—above and below, contact details, top relationships, and budgetary data amongst other information. It's a complete picture of the person and their organization. I started leveraging Leadership Connect to track the administration change but have expanded my focus given the breadth and depth of data. I'm in the product several times a day, every day."

Director, Federal Government Affairs

Microsoft
Easy to Use Anywhere You Need It