Strong Relationships Enable Successful Agency Missions
Maximize your public influence, connect with the right people in government, and prepare for the unexpected
Request a Demo
Trusted by 10,000+ government officials and staff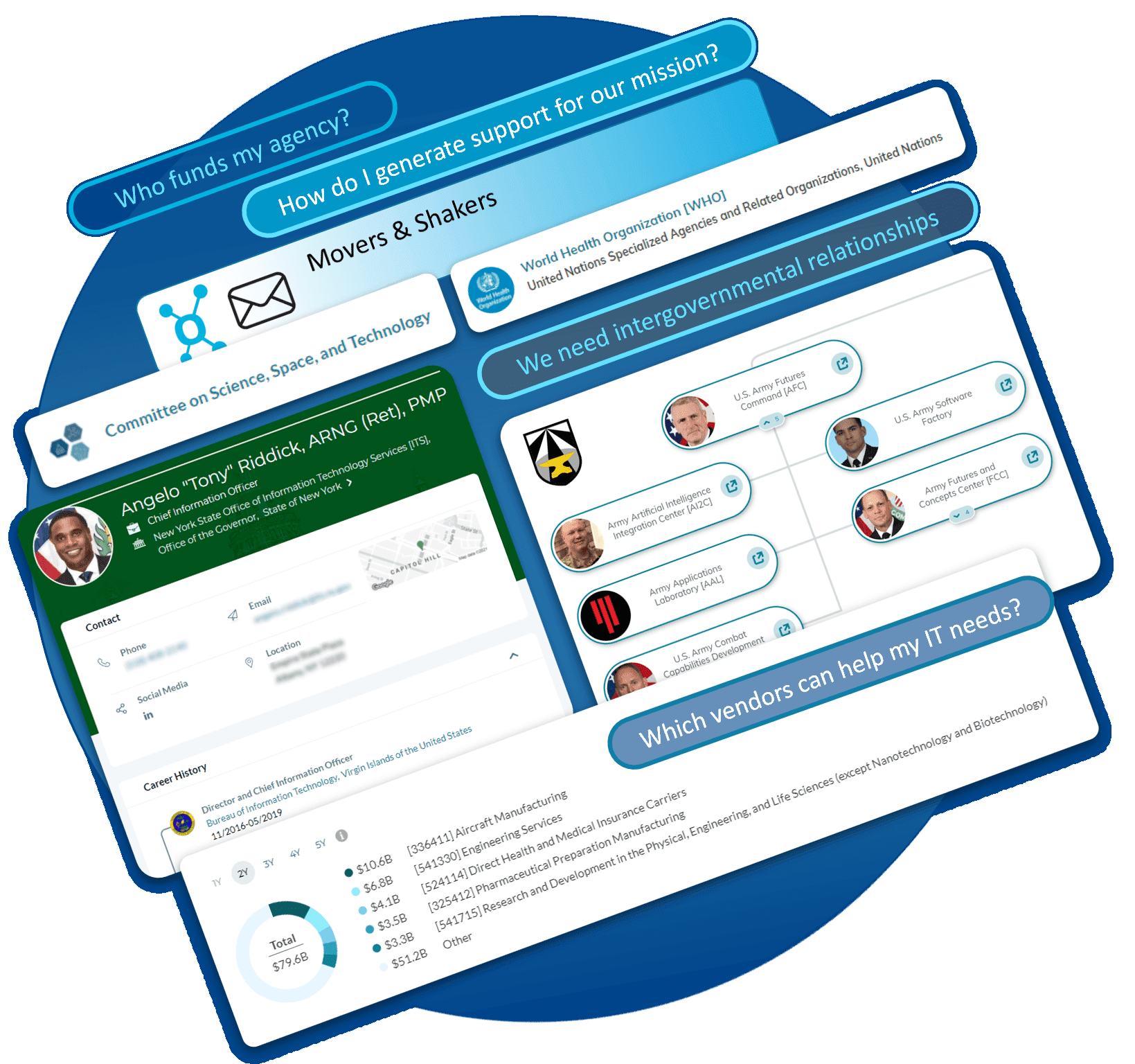 Case Study

The EPA works increasingly with state and local governments through a variety of research, monitoring, standard setting and enforcement activities. They needed an efficient and user-friendly solution with robust people intelligence to support the outreach needs of its regional offices.
Problems solved: Leadership Connect was deployed to Intergovernmental Affairs, resulting in more effective State & Local outreach and reduced expenditures on lobbyists.​
Federal Emergency Management Agency [FEMA]

"Leadership Connect helps us identify and engage regional stakeholders such as elected officials, department heads, news media sources, and corporate leaders. We use it both reactively and proactively to support our mission – whether it's engaging a mayor's staff after a natural disaster or helping target and build strong relationships with local players."
United States Nuclear Regulatory Commission [NRC]

"We value our ability to accurately pinpoint specific Hill staffers, as well as get alerted when a new staffer joins. We can't afford to be blindsided by staff changes within the offices and committees."
United States Department of Health and Human Services [HHS]

"Leadership Connect delivers quality every time. I have found that the information is more accurate and detailed than what I receive directly from my customers!"
United States Army Corps of Engineers [USACE]

Public & Legislative Affairs

"I use Leadership Connect several times a week to find vital legislative contacts. The information is robust and always very current. Leadership Connect is very easy to use and has a Google like simplicity."
Federal Aviation Administration [FAA]

"We love the ease of use. Leadership Connect expedites our connections with elected officials and their district office staff."
Intergovernmental and Private Sector Connections
Advance Your Agency's Mission and Your Career
Mission Execution
Manage your department's stakeholders across the federal, state, local government, and private sectors to fulfill mission requirements. From execution of state and local funding disbursement to disaster relief, having connections in media, officials, and corporations enables you to complete necessary tasks.
The most in-depth congressional, federal, and local government people intelligence
Reduce manual efforts of maintaining lists
Secure funding for your initiatives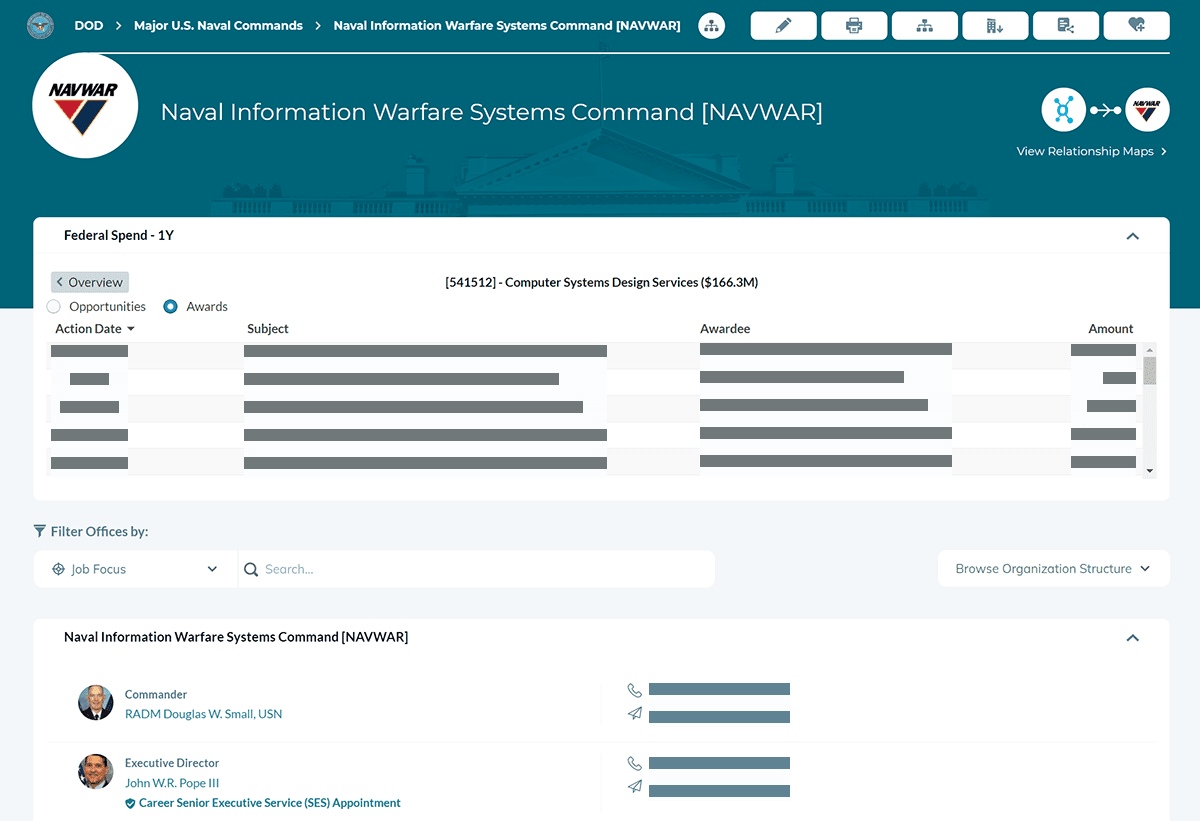 Be in the Intergovernmental "Know"
Interagency and intergovernmental collaboration momentum is bringing governments into the new era of serving the citizen. Internal and external knowledge sharing creates efficiency and quick response when you have the decision makers' information on hand.
Discover and build cross agency relationships with leaders
Network with talent in your own agency
Identify and build a strategy for government success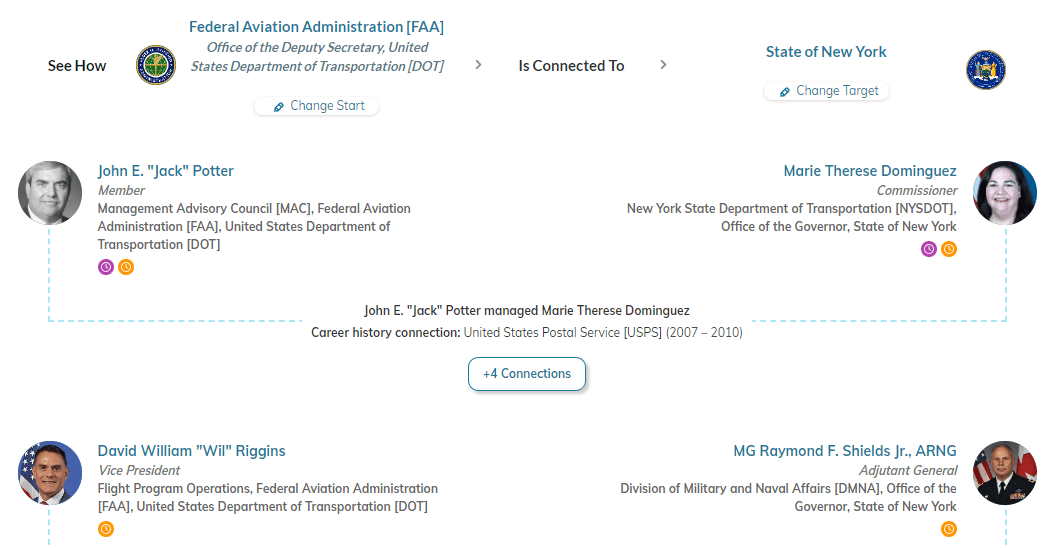 Work Together to Build Public Trust
Ease the legwork in finding valuable connections with the same goals as your organization. With distrust in the government at its highest, connecting with the most reputable contractors and learning more about what other agencies are accomplishing will establish that trust.
Partner with industry leaders in DEI, SBA, and women owned businesses
Prepare contracting officers and program managers for other options during rebids
Follow the money, and know who uses it wisely from past contracts, with the only patented tool linking awards to the decision makers
Stay Organized Within Your Workflow
No need for you to manually input data to your CRM or deal with duplicate data. Just enjoy building relationships and we've got you covered.
Fill your CRM with accurate and synced data to improve your operations
Compliance with data privacy regulations including CCPA and GDPR
Our experienced team suggests best practices for your unique workflow
Salesforce or API integration
Trusted public sector people intelligence includes key linkages to corporate, nonprofit, media, and advisory organizations