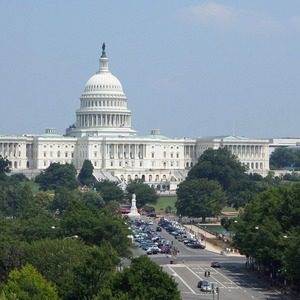 It has been nearly a year since Democrats took control of the U.S. House of Representatives in the 2018 midterm elections. Since then, with legislative progress proving elusive in a divided government, the theme of the 116th Congress so far seems to be Republican retirements. Seventeen Republican House members and three incumbent Republican senators have announced that they will not seek re-election. This is a theme that we've seen in the executive branch as well, with historically high levels of turnover in the Trump administration.
With all this churn going on, it's worth taking a look at the state of the revolving door between government and corporations. Leadership Connect has tracked 73 government affairs-related hires at Fortune 500 companies so far this year, as of late September. Of those appointments, 34% joined from government roles, while 36% joined from other companies, 25% from nonprofits and associations, and 6% from law and lobbying firms.
Most of the government hires were drawn from congressional staffers, including seven who worked for Republican members of Congress and four for Democratic members. Notable hires include:
Hires from the federal government included officials from the National Economic Council, as well as from the Department of Defense, Department of Health and Human Services, and the Transportation Department. Key hires include:
While all appointments from the private sector aren't revolving door hires, strictly speaking, the vast majority have government experience. A few noteworthy cases in point: Former New York Governor David Paterson, most recently an investment director at Stifel, Nicolaus & Co., joined Las Vegas Sands Corp. as senior vice president this year. Former U.S. ambassador to Vietnam, Ted Osius, who was previously a senior advisor at Albright Stonebridge Group, joined Google as vice president of Asia-Pacific government affairs and public policy in February. Raj Shah, now a senior vice president at Fox Corp.'s Washington office, was previously chair of the media group at Ballard Partners. Before that, he served as deputy press secretary in the Trump White House.