by Salma Ismaiel & Ashley Weaver
Leadership Connect took a close look at the backgrounds of government affairs leaders in Fortune 500 companies: Where they went to school; where they worked before running their teams; which administration they worked for; and did they attend a school where their company is headquartered? Their backgrounds, including education and career history, are diverse. The education data represents colleges and universities at all degree levels, while career history is represented by their most recent role.
Key Findings:
Almost 50% of all Government Affairs leaders NEVER worked on the Hill or for an administration
Georgetown, GW, American University and Harvard are the Top 4 schools GA leaders attended
Only 8% of leaders came directly from the Hill to their current position
28% of leaders graduated from a D.C.-centric university
Half of leaders with agency experience worked in GW Bush and Clinton administrations
Almost 2/3 of all leaders were in a corporate role prior to taking their leadership role
Those that go to school in the DMV, stay in the DMV.
Although 14% of all schools are D.C.-based, 28% of the top 25 schools of F500 government affairs leaders graduated from D.C. schools Georgetown University, George Washington University, and American University. Similar to the schools where members of the Biden-Harris Transition Staff graduated from, the Acela Corridor harbors the majority of graduates with a total of 65%. 7% of graduates are scattered across Southern states Florida, Texas, and North Carolina, and even less so across California and the Midwest. Go Hoyas!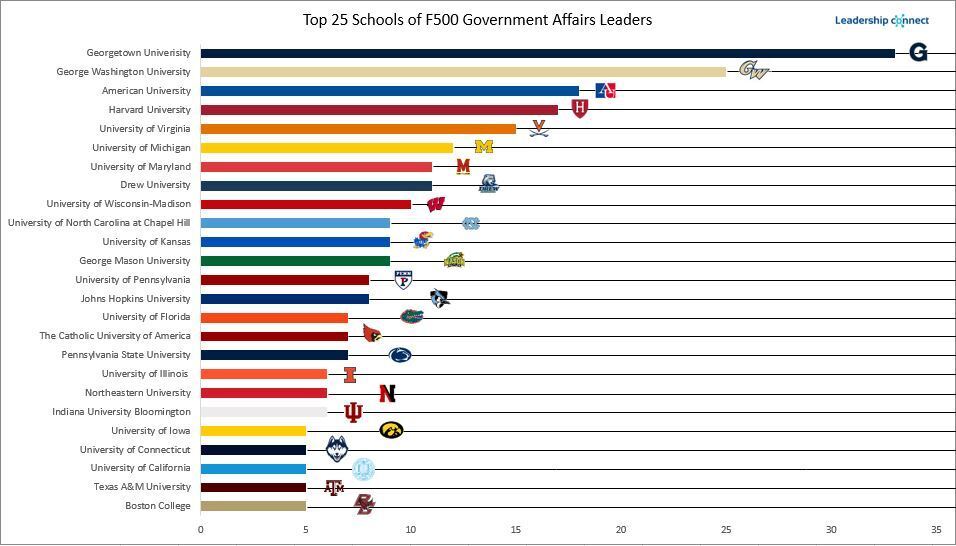 28% of F500 Government Affairs leaders graduated from D.C. schools Georgetown, George Washington, and American University.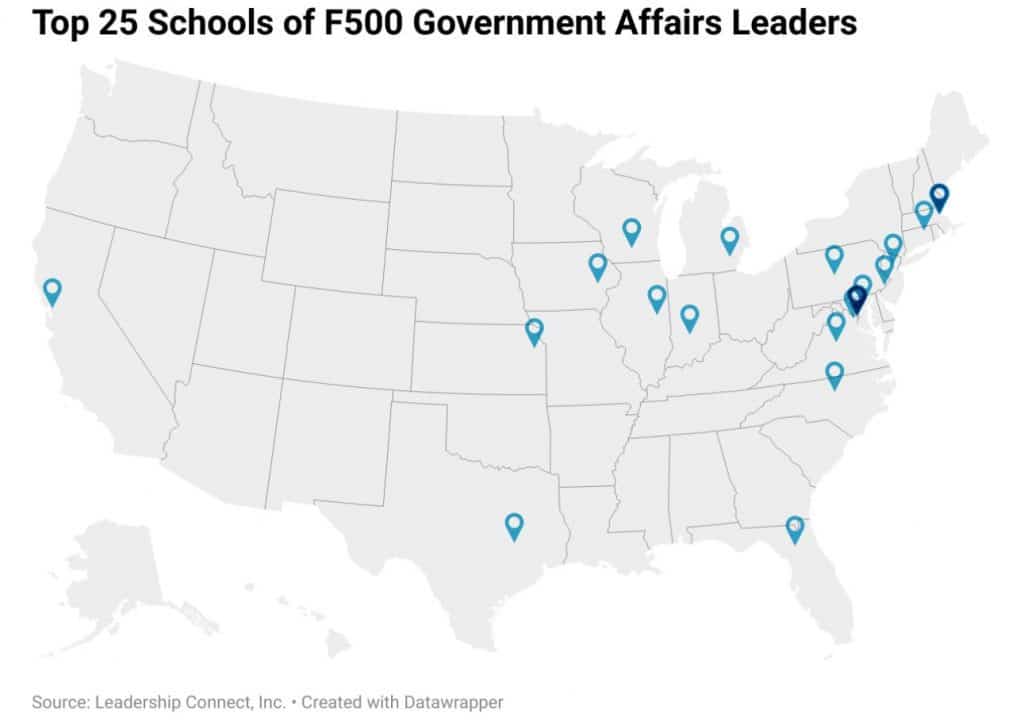 20% of the colleges and universities these individuals attended are located in the same state as the headquarters of their current F500 employer.
Needing Hill experience to move into GA is a myth.
A large majority of GA team leads in the country's Fortune 500 companies have extensive experience in the corporate world. Almost 2/3 GA team leads held a corporate role before taking over leadership of their team. After that, the most common "previous role" (at 15%) was experience in the association/non-profit world.
Surprisingly, only 8% of leaders come directly from the Hill. Rounding out our common sources of GA leaders were those coming from law/lobbying work, as well as the Federal Government. Academia, think tank work, state and local government, and consulting were a few of the less popular professional backgrounds among F500 GA team leads.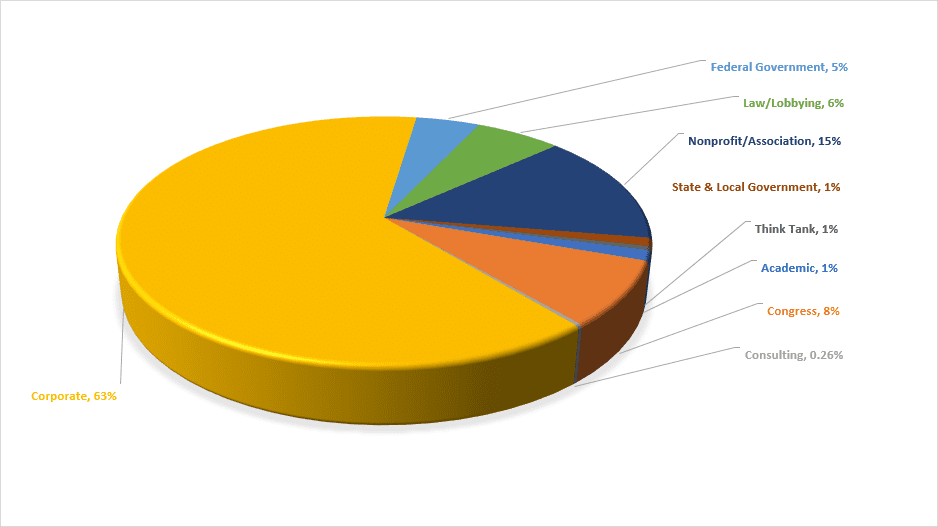 Only 8% of leaders came directly from the Hill.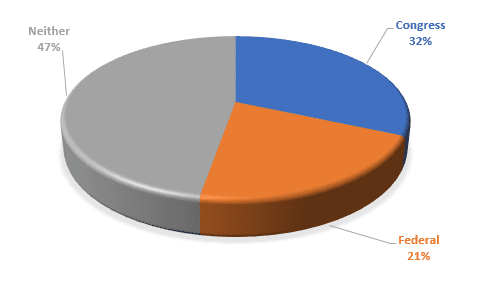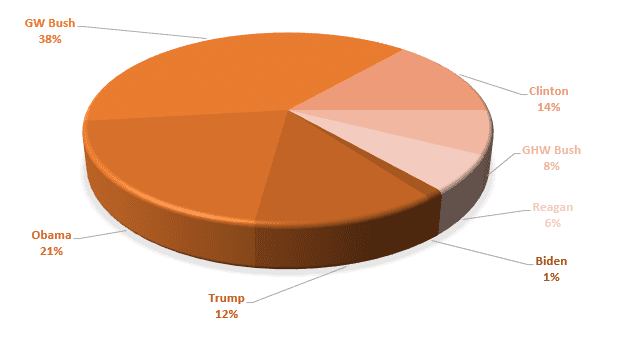 D.C. Experience
From the entire group of government affairs leaders at Fortune 500 companies, about half of them had prior experience in D.C. government. Of this group with D.C. experience, approximately 40% worked in the executive branch and 60% worked on the Hill.
A further analysis of this subset of GA leaders with prior experience in the executive branch shows that about half worked during the GW Bush or Clinton administrations.
40% of corporate government affairs had experience within the Federal Government, with half working for Bush or Clinton.