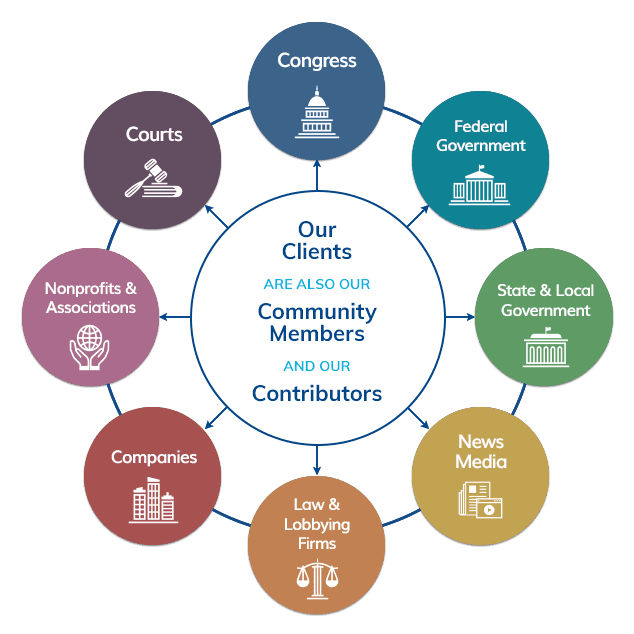 Government communities help influence policy. Develop strategic relationships and respond to fire drills.
Build coalitions with think tanks, nonprofits, aligned corporations.
Increase public awareness with journalists, producers, and media executives
Leadership Connect is the #1 trusted source for connecting policy professionals to the right people in government.
"Leadership Connect is the tool that ensures my clients and I can identify and reach key contacts – in Congress, the Administration, in industry both inside and outside the Beltway – when we need to."

Jason Briefel

Director of Government Affairs - Shaw Bransford & Roth P.C.
Problems We Solve
From Reacting to Critical Changes, to Fly In Meeting Prep, to Long Term Strategy
Navigate complex government organizations: Federal, State & Local
Full reporting structure for government organizations — even transition teams
Connect with a supervisor or direct reports
"As a government relations professional, I find Leadership Connect to be an invaluable resource. The government agency data is the most up to date available and the organization charts are extremely useful."

Daniel F. C. Crowley

Partner, K&L Gates
Stop Searching, Start Finding!
Google and LinkedIn won't help you
Leadership Connect includes

data available nowhere else

Simple interface that requires no training
Find the right person in government, with data you can trust
Create targeted lists for outreach
Expert analysts help with any further questions
"I use Leadership Connect several times a week to find vital legislative contacts. The information is robust and always very current. Leadership Connect is very easy to use and has a Google-like simplicity."

Ed Voigt

Chief, Public & Legislative Affairs - U.S. Army Corps of Engineers, Philadelphia District
Easy to Use Anywhere You Need It