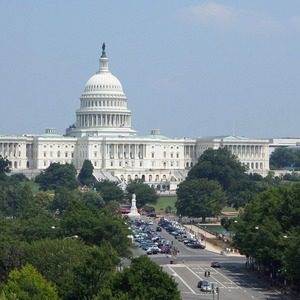 While eyes are glued to the ever-shifting dynamics of the Democratic presidential primaries, critically important congressional races are happening. As 15 states are set to vote in the infamously consequential primaries of March 3, five of these states will also vote in their congressional primaries on the same date. For Alabama, Arkansas, California, North Carolina and Texas, Super Tuesday is just that much more super.
Here are a few of the key Congressional races to watch:
AL, Republican Senate Race: The Alabama race to unseat Democratic Sen. Doug Jones (D-AL) is particularly packed with eager Republicans vying for the spot. Former U.S. Attorney General Jeff Sessions, who vacated the Senate seat to join President Donald Trump's cabinet, is a natural front-runner.  However, he'll have to contend with former Auburn football coach Tommy Tuberville, House Rep. Bradley Byrne, and the former State Supreme Court chief justice, Roy Moore. Moore, who faced controversial sexual allegations during the last Alabama Senate election, is unlikely to make much headway again. The main question remains: Will Sessions' tense exit from the Trump administration in 2018 be enough to topple his 2020 bid?  
CA, House District 25 Race: Before Katie Hill was elected to the House in 2018, California's 25th District had been held by Republicans for over 25 years. Since Hill resigned amid allegations of sexual indiscretions, the district has continued to receive national attention for the race to fill her vacated seat. Among the controversial figures running in the Suburban L.A. District are The Young Turks' main man, Cenk Uygur, and former Trump campaign aide George Papadopoulos, who was famously convicted during the Mueller probe. Despite the perceived scandal associated with the race, Democratic State Assemblywoman Christy Smith is the likely victor. Still, as California primaries are mixed with all contenders (regardless of party), she will have to hold her ground against two formidable Republican candidates: former U.S. Congressman Steve Knight and former Naval Officer Mike Garcia.  
NC, Democratic Senate Race: Since North Carolina swung to former President Barack Obama in 2008, the state has become a contentious battleground in races up and down the ballot. Both parties see this as a key swing state to win over—so much so that a prominent Republican SuperPAC has targeted the Democratic Senate primary. Frontrunner, former State Senator and Army veteran Cal Cunningham, currently has a solid lead in the race. However, the far more progressive State Senator and engineer, Erica Smith, has not only the backing of the state's progressive nonprofits, but also certain Republicans, who aim to skew the race in a way that may benefit the Incumbent Republican, Sen. Thom Tillis. For whomever takes the victory on March 3rd, an expensive and combative race is guaranteed in the 2020 general election. 
TX, House District 22: The suburban Greater Houston district is drawing particular attention this season for a couple of reasons. One, incumbent Pete Olson is not running. Two, a Bush is. Pierce Bush, grandson of former President George H.W. Bush and chief executive of Big Brothers Big Sisters Lonestar, is seeking his first bid for public office. He is facing off against strong Trump allies: County Sheriff Troy Nehls, and conservative activist Kathaleen Wall. Both consider Bush a faux-Trump supporter. As the DCCC has named the district as a top target to flip, it is unclear as to whether a far-right candidate will maintain appeal in the general election.  
TX, Democratic Senate Race: While it is still widely considered a longshot for any Democrat to beat out a Republican for the Texas Senate, this has not prevented nearly a dozen Dems from tossing their hats in the ring. While recent polls show that large swaths of Texans are still undecided for the Dem Senate primary, former Air Force pilot MJ Hegar has command of the top spot.  Regardless, Hegar will likely have to face off with various opponents again in a May run-off election, unless she is able to dominate over 50% of the Super Tuesday vote. Other candidates, including State Senator Royce West, Community Organizer Christina Tzintzun, former U.S. Congressman Chris Bell, and Houston City Councilwoman Amanda Edwards are all struggling to break out of the pack.  Will Hegar be able to maintain a commanding lead in a second May contest? 
Super Tuesday will be just the first glimpse into the competitive scene of Congressional contests this year.
Buckle up as we face the other 45 states in weeks to come.