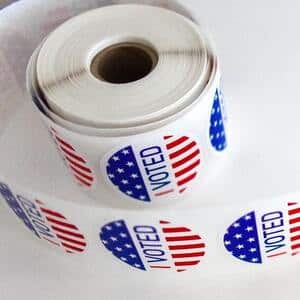 Numerous outlets have projected that Democrats will keep their majority in the House of Representatives. Heading into Election Day, forecasters and party leaders projected that Democrats would not only maintain control of the chamber but increase their majority. However, while modest gains weren't enough to take the majority in the House, Republicans outperformed expectations while also electing a record number of non-incumbent women to the House.
As states continue to count ballots and many races remain uncalled, Democrats have officially brought their count to at least 219 seats, surpassing the 218-minimum needed to hold the majority.  But after historic gains made in the 2018 midterms, Democrats who were optimistic about expanding their House majority heading into Election Day are now reckoning with the slim majority they will hold for the next two years.
So far, Republicans have defeated at least seven House Democrats, including six who have only served one term. Candidates who defeated Democratic incumbents include Republican Stephanie Bice, who defeated first-term Rep. Kendra Horn (D-OK, 5), Republican Nancy Mace, who defeated first-term Rep. Joe Cunningham (D-SC, 1), Republican Michelle Fischbach, who defeated Rep. Collin Peterson (D-MN, 7), Republican Yvette Herrell, who defeated first-term Rep. Xochitl Torres Small (D-NM, 2), Republican Maria Salazar, who defeated first-term Rep. Donna Shalala (D-FL, 27), and Republican Carlos Gimenez, who will replace Rep. Debbie Mucarsel-Powell (D-FL, 26). After gaining back some of the ground lost in the 2018 midterms, Republicans also won a seat left vacant by Rep. Justin Amash, who retired earlier this year after announcing his departure from the Republican party.
Election Day wasn't all bad news for House Democrats. In addition to holding on to a narrow majority, Democrats also gained two seats in North Carolina where Deborah Ross flipped a redistricted seat in District 2 and Kathy Manning flipped a redistricted seat in District 6, both against non-incumbent Republican challengers. Additionally, Reps. Lizzie Fletcher (D-TX, 7) and Colin Allred (D-TX, 32) are projected to keep their seats after flipping those districts in the 2018 midterms.
Democratic disappointment in House results has seen bitter divisions and increased tensions between moderate and progressive Democrats, who accuse each other of pushing policies and messaging that have made it easier for Republicans to win in competitive districts. The internal debate is likely to continue and could complicate House Majority Leader Nancy Pelosi's ability to effectively govern as party leader. Democrats will hold leadership elections to select party leaders for the upcoming 117th Congress on November 18th and 19th and Republicans will hold their leadership elections on November 17th.