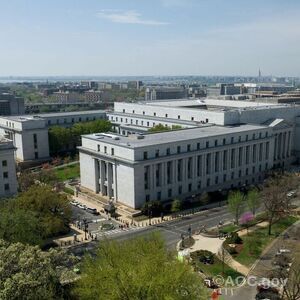 Each new session of Congress, members of the House have the option to pick new offices. For returning members of Congress, offices are chosen by seniority, and new members select offices in the order determined by a random lottery system. More senior members often opt to stay in the same office after claiming one they liked in a previous congress, but some of the newer members of Congress try to move around or claim a 'better' office through this process, and the newest or freshman members are left to fight over what is left.
Many returning members who had the intention of moving, have been planning that move for weeks prior to the actual turnover date, with knowledge of the order of seniority and office availability allowing for forethought. New members began choosing offices on Dec. 3 after a computerized algorithm determined the order in which names would be selected for the lottery drawing.
Leadership Connect has been closely monitoring the office change process to keep its congressional office location data current. The information is being updated as it is obtained; most changes will occur throughout December, in the weeks preceding the new Congress.
(Last updated: Jan. 6)
| | | |
| --- | --- | --- |
| Member of Congress | Former Room | New Room |
| Robert Aderholt | 1203 Longworth House Office Building | 266 Cannon House Office Building |
| Bobby Scott | 1201 Longworth House Office Building | 2328 Rayburn House Office Building |
| Jim Clyburn | 200 Cannon House Office Building | 266 Cannon House Office Building |
| Mike Rogers | 2184 Rayburn House Office Building | 2469 Rayburn House Office Building |
| Joe Courtney | 2332 Rayburn House Office Building | 2449 Rayburn House Office Building |
| Anna Eshoo | 202 Cannon House Office Building | 272 Cannon House Office Building |
| David Joyce | 1124 Longworth House Office Building | 2065 Rayburn House Office Building |
| Gus Bilirakis | 2227 Rayburn House Office Building | 2354 Rayburn House Office Building |
| Karen Bass | 2059 Rayburn House Office Building | 2021 Rayburn House Office Building |
| Barry Loudermilk | 422 Cannon House Office Building | 2133 Rayburn House Office Building |
| David Rouzer | 2439 Rayburn House Office Building | 2333 Rayburn House Office Building |
| Elise Stefanik | 318 Cannon House Office Building | 2211 Rayburn House Office Building |
| Ben Cline | 1009 Longworth House Office Building | 2443 Rayburn House Office Building |
| Ed Case | 2443 Rayburn House Office Building | 2210 Rayburn House Office Building |
| John Rose | 1232 Longworth House Office Building | 1124 Longworth House Office Building |
| Scott Perry | 1207 Longworth House Office Building | 2160 Rayburn House Office Building |
| William Timmons | 313 Cannon House Office Building | 267 Cannon House Office Building |
| Chris Jacobs | 2333 Rayburn House Office Building | 313 Cannon House Office Building |
| Dan Newhouse | 1414 Longworth House Office Building | 504 Cannon House Office Building |
| Tom Rice | 512 Cannon House Office Building | 460 Cannon House Office Building |
| Alcee Hastings | 2353 Rayburn House Office Building | 2365 Rayburn House Office Building |
| Pramila Jayapal | 1510 Longworth House Office Building | 2346 Rayburn House Office Building |
| Daniel T. Kildee | 200 Cannon House Office Building | 203 Cannon House Office Building |
| Andy Biggs | 1318 Longworth House Office Building | 171 Cannon House Office Building |
| Jackie Walorski | 419 Cannon House Office Building | 466 Cannon House Office Building |
| Lloyd K. Smucker | 127 Cannon House Office Building | 302 Cannon House Office Building |
| Troy Balderson | 1221 Longworth House Office Building | 2429 Rayburn House Office Building |
| Anthony Gonzalez | 1023 Longworth House Office Building | 2458 Rayburn House Office Building |
| Mike Quigley | 2458 Rayburn House Office Building | 2078 Rayburn House Office Building |
| Jared Golden | 1223 Longworth House Office Building | 1222 Longworth House Office Building |
| Mikie Sherrill | 1208 Longworth House Office Building | 1414 Longworth House Office Building |
| Pete Stauber | 126 Cannon House Office Building | 461 Cannon House Office Building |
| Tom Tiffany | 1714 Longworth House Office Building | 1719 Longworth House Office Building |
| Chris Jacobs | 2243 Rayburn House Office Building | 214 Cannon House Office Building |
| Mike Bost | 1440 Longworth House Office Building | 1211 Longworth House Office Building |
| Adriano Jesús Espaillat | 1630 Longworth House Office Building | 2332 Rayburn House Office Building |
| Daniel A. Webster | 1210 Longworth House Office Building | 2184 Rayburn House Office Building |
| Darren Michael Soto | 1507 Longworth House Office Building | 2353 Rayburn House Office Building |
| Bruce Eugene Westerman | 209 Cannon House Office Building | 202 Cannon House Office Building |
| Ted Budd | 118 Cannon House Office Building | 103 Cannon House Office Building |
| Donald M. Payne Jr. | 103 Cannon House Office Building | 106 Cannon House Office Building |
| Debbie Lesko | 1113 Longworth House Office Building | 1214 Longworth House Office Building |
| John Carter | 2110 Rayburn House Office Building | 2208 Rayburn House Office Building |
| Ilhan Omar | 1517 Longworth House Office Building | 1730 Longworth House Office Building |
| Trent Kelly | 1005 Longworth House Office Building | 2243 Rayburn House Office Building |
| Brian Fitzpatrick | 1722 Longworth House Office Building | 271 Cannon House Office Building |
| Jack Bergman | 414 Longworth House Office Building | 566 Cannon House Office Building |
| Jimmy Panetta | 212 Cannon House Office Building | 406 Cannon House Office Building |
| Mike Thompson | 406 Cannon House Office Building | 268 Cannon House Office Building |
| Ralph W. Norman | 319 Cannon House Office Building | 569 Cannon House Office Building |
| David Schweikert | 1526 Longworth House Office Building | 304 Cannon House Office Building |
| Jim McGovern | 408 Cannon House Office Building | 370 Cannon House Office Building |
| Mark Pocan | 1421 Longworth House Office Building | 1727 Longworth House Office Building |
| Rodney Davis | 1740 Longworth House Office Building | 2079 Rayburn House Office Building |
| Tom Malinowski | 426 Cannon House Office Building | 1318 Longworth House Office Building |
| Sean Patrick Maloney | 2331 Rayburn House Office Building | 464 Cannon House Office Building |
| Scott Peters | 2338 Rayburn House Office Building | 1201 Longworth House Office Building |
| Jeff Van Drew | 331 Cannon House Office Building | 2447 Rayburn House Office Building |
| Ted Deutch | 2447 Rayburn House Office Building | 2323 Rayburn House Office Building |
| David Scott | 225 Cannon House Office Building | 468 Cannon House Office Building |
| James Comer | 1037 Longworth House Office Building | 2410 Rayburn House Office Building |
| Mark Green | 533 Cannon House Office Building | 2446 Rayburn House Office Building |
| Abigail Spanberger | 1239 Longworth House Office Building | 1431 Longworth House Office Building |
| Dan Meuser | 326 Cannon House Office Building | 414 Cannon House Office Building |
| Dusty Johnson | 1508 Longworth House Office Building | 1714 Longworth House Office Building |
| Carol Miller | 1605 Longworth House Office Building | 465 Cannon House Office Building |
| Chip Roy | 1319 Longworth House Office Building | 1005 Longworth House Office Building |
| Cindy Axne | 330 Cannon House Office Building | 1034 Longworth House Office Building |
| Matt Cartwright | 1034 Longworth House Office Building | 2102 Rayburn House Office Building |
| Colin Allred | 328 Cannon House Office Building | 114 Cannon House Office Building |
| Elaine Luria | 534 Cannon House Office Building | 412 Cannon House Office Building |
| Jim Baird | 532 Cannon House Office Building | 1314 Longworth House Office Building |
| John Joyce | 1337 Longworth House Office Building | 1221 Longworth House Office Building |
| Lizzie Fletcher | 1429 Longworth House Office Building | 119 Cannon House Office Building |
| Michael Guest | 230 Cannon House Office Building | 418 Cannon House Office Building |
| Mike Johnson | 418 Cannon House Office Building | 568 Cannon House Office Building |
| Mike Levin | 1626 Longworth House Office Building | 1030 Longworth House Office Building |
| Nanette Barragan | 1030 Longworth House Office Building | 2246 Rayburn House Office Building |
| Ron Wright | 428 Cannon House Office Building | 1725 Longworth House Office Building |
| Kweisi Mfume | 2163 Rayburn House Office Building | 2263 Rayburn House Office Building |
| Tom Reed | 2263 Rayburn House Office Building | 1203 Longworth House Office Building |
| Vern Buchanan | 2427 Rayburn House Office Building | 2110 Rayburn House Office Building |
| Alex Mooney | 2440 Rayburn House Office Building | 2228 Rayburn House Office Building |
| Bonnie Watson Coleman | 2442 Rayburn House Office Building | 168 Cannon House Office Building |
| Gary Palmer | 207 Cannon House Office Building | 170 Cannon House Office Building |
| Norma Torres | 2444 Rayburn House Office Building | 2227 Rayburn House Office Building |
| Rick Allen | 2400 Rayburn House Office Building | 570 Cannon House Office Building |
| David Kustoff | 523 Cannon House Office Building | 560 Cannon House Office Building |
| Jodey Arrington | 1029 Longworth House Office Building | 1107 Longworth House Office Building |
| Lisa Blunt Rochester | 1519 Longworth House Office Building | 1724 Longworth House Office Building |
| Ro Khanna | 221 Cannon House Office Building | 306 Cannon House Office Building |
| Ron Estes | 1524 Longworth House Office Building | 2411 Rayburn House Office Building |
| Tom C. O'Halleran | 324 Cannon House Office Building | 318 Cannon House Office Building |
| Vicente Gonzalez | 113 Cannon House Office Building | 167 Cannon House Office Building |
| Jenniffer González-Colón | 1609 Longworth House Office Building | 2338 Rayburn House Office Building |
| Rick Larsen | 2113 Rayburn House Office Building | 2163 Rayburn House Office Building |
| Eric Swalwell | 407 Cannon House Office Building | 174 Cannon House Office Building |
| Sheila Jackson Lee | 2079 Rayburn House Office Building | 2426 Rayburn House Office Building |
| Scott Eugene DesJarlais | 2301 Rayburn House Office Building | 2304 Rayburn House Office Building |
| Don Norcross | 2437 Rayburn House Office Building | 2427 Rayburn House Office Building |
| John Michael Katko | 2457 Rayburn House Office Building | 2428 Rayburn House Office Building |
| CPT Warren Earl Davidson | 1107 Longworth House Office Building | 2213 Rayburn House Office Building |
| Al Lawson | 1406 Longworth House Office Building | 2437 Rayburn House Office Building |
| Brad Schneider | 1432 Longworth House Office Building | 300 Cannon House Office Building |
| John Ream Curtis | 125 Cannon House Office Building | 2400 Rayburn House Office Building |
| Josh Gottheimer | 213 Cannon House Office Building | 203 Cannon House Office Building |
| Lou Correa | 1039 Longworth House Office Building | 2301 Rayburn House Office Building |
| Salud Carbajal | 1431 Longworth House Office Building | 2331 Rayburn House Office Building |
| Michael J. Cloud | 1314 Longworth House Office Building | 512 Cannon House Office Building |
| Alexandria Ocasio-Cortez | 229 Cannon House Office Building | 216 Cannon House Office Building |
| Andy Levin | 228 Cannon House Office Building | 312 Cannon House Office Building |
| Angie Craig | 1523 Longworth House Office Building | 2442 Rayburn House Office Building |
| Chris Pappas | 323 Cannon House Office Building | 319 Cannon House Office Building |
| Chuy Garcia | 530 Cannon House Office Building | 1519 Longworth House Office Building |
| Kelly M. Armstrong | 1004 Longworth House Office Building | 1740 Longworth House Office Building |
| Lance Carter Gooden | 425 Cannon House Office Building | 1722 Longworth House Office Building |
| Lauren A. Underwood | 1118 Longworth House Office Building | 1130 Longworth House Office Building |
| David J. Trone | 1213 Longworth House Office Building | 1110 Longworth House Office Building |
| Deb Haaland | 1237 Longworth House Office Building | 1421 Longworth House Office Building |
| Elissa B. Slotkin | 1531 Longworth House Office Building | 1210 Longworth House Office Building |
| Greg Pence | 222 Cannon House Office Building | 211 Cannon House Office Building |
| Greg Stanton | 128 Cannon House Office Building | 207 Cannon House Office Building |
| Greg Steube | 521 Cannon House Office Building | 2457 Rayburn House Office Building |
| Haley Stevens | 227 Cannon House Office Building | 1510 Longworth House Office Building |
| Jim Hagedorn | 325 Cannon House Office Building | 1433 Longworth House Office Building |
| Lori Loureiro Trahan | 1616 Longworth House Office Building | 2439 Rayburn House Office Building |
| Madeleine Dean | 129 Cannon House Office Building | 120 Cannon House Office Building |
| Mary Gay Scanlon | 1535 Longworth House Office Building | 1227 Longworth House Office Building |
| COL Michael G. Waltz | 216 Cannon House Office Building | 213 Cannon House Office Building |
| Michael Doyle | 306 Cannon House Office Building | 270 Cannon House Office Building |
| Sean Casten | 429 Cannon House Office Building | 2440 Rayburn House Office Building |
| Steven A. Horsford | 1330 Longworth House Office Building | 562 Cannon House Office Building |
| Susan Ellis Wild | 1607 Longworth House Office Building | 1027 Longworth House Office Building |
| Susie Lee | 522 Cannon House Office Building | 365 Cannon House Office Building |
| Dan Bishop | 132 Cannon House Office Building | 1207 Longworth House Office Building |
| Derek Christian Kilmer | 1410 Longworth House Office Building | 2059 Rayburn House Office Building |
| Doug LaMalfa | 322 Cannon House Office Building | 408 Cannon House Office Building |
| Richard Neal | 2309 Rayburn House Office Building | 372 Cannon House Office Building |
| Chris Stewart | 2242 Rayburn House Office Building | 166 Cannon House Office Building |
| Louie Gohmert | 2267 Rayburn House Office Building | 2269 Rayburn House Office Building |
| Gregorio Kilili Camacho Sablan | 2411 Rayburn House Office Building | 2267 Rayburn House Office Building |
| Jim Himes | 1227 Longworth House Office Building | 2137 Rayburn House Office Building |
| Mo Brooks | 2246 Rayburn House Office Building | 2185 Rayburn House Office Building |
| Adam Schiff | 2269 Rayburn House Office Building | 2309 Rayburn House Office Building |
| Ami Bera | 1727 Longworth House Office Building | 172 Cannon House Office Building |
| Bob Gibbs | 2446 Rayburn House Office Building | 2217 Rayburn House Office Building |
| Jody Hice | 409 Cannon House Office Building | 404 Cannon House Office Building |
| Jamie Raskin | 412 Cannon House Office Building | 2242 Rayburn House Office Building |
| Tom Suozzi | 214 Cannon House Office Building | 407 Cannon House Office Building |
| George Steil | 1408 Longworth House Office Building | 1526 Longworth House Office Building |
| Guy Reschenthaler | 531 Cannon House Office Building | 409 Cannon House Office Building |
| Josh Harder | 131 Cannon House Office Building | 209 Cannon House Office Building |
| Kathy Manning | … | 415 Cannon House Office Building |
| Kat Cammack | … | 1626 Longworth House Office Building |
| Kai Kahele | … | 1205 Longworth House Office Building |
| Nancy Mace | … | 202 Cannon House Office Building |
| Jay Obernolte | … | 1029 Longworth House Office Building |
| Nicole Malliotakis | … | 417 Cannon House Office Building |
| Sara Jacobs | … | 1232 Longworth House Office Building |
| Diana Harshbarger | … | 167 Cannon House Office Building |
| Bob Good | … | 1213 Longworth House Office Building |
| Yvette Herrell | … | 1305 Longworth House Office Building |
| Pat Fallon | … | 223 Cannon House Office Building |