When party control of the House changes, it is most common that the ranking member of a committee in the previous Congress will become chair. Over the past thirty years, the House has experienced four party flips. In these instances, committee ranking members have taken over the position of chair when their party assumes the majority around 81% of the time.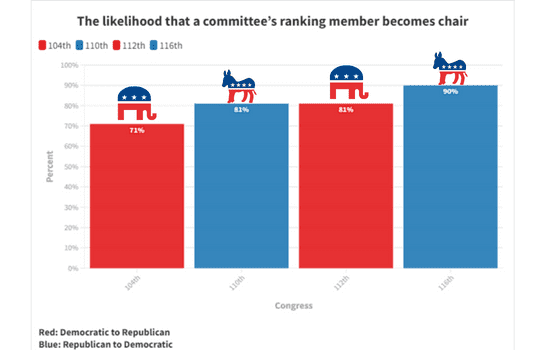 The four most recent party flips in the House occurred during the 104th, 110th, 112th, and 116th Congresses. Each time, the House retained 21 permanent standing committees that were examined for leadership changes. The likelihood that a committee's ranking member becomes chair has increased during the more recent Congresses from 71% (15/21) during the 104th Congress to 81% (17/21) in both the 110th and 112th Congresses. Most recently, 90% (19/21) of ranking members became chairs when Democrats gained control of the House during the 116th Congress.  
Cases in which the committee ranking member did not become chair can often be explained by retirements, as committee leaders are typically members with high seniority and longer tenures. For example, former Rep. Bob Brady (D-PA) did not assume the chairmanship of the Committee on House Administration when Democrats took control of the House during the 116th Congress despite being the top-ranking Democrat on the committee for twelve years as he retired at the end of the 115th Congress. Additionally, House Republicans have committee leadership term limits, which can disqualify some ranking members from assuming the chair position.  
Given this analysis and our previous analysis of predicted House committee leadership in the 118th Congress, it is expected that many current ranking members would become chairs of their committees, if Republicans gain control of the House. However, the rate for the 118th Congress may be lower than the historical trend given the high number of retirements by committee leaders. The retirements of current ranking members are expected to shake up Republican committee leadership, potentially leading to changes in five committees.