The Insider's Guide to Working on Capitol Hill
Leadership Connect's Spotlight Interview Series strives to explore the passion and purpose of those who work on Capitol Hill.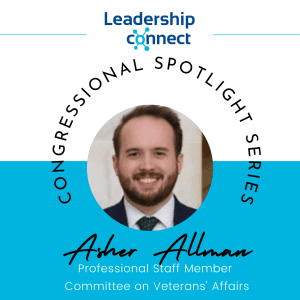 Today we delve into the world of Capitol Hill and gain insights into the work of one of its dedicated professionals, Asher Allman. As a Professional Staff Member on the Committee on Veterans' Affairs, Asher brings six years of experience in shaping policy and contributing to the legislative process.
In this Congressional Spotlight Series, Asher shares his thoughts on success, the importance of setting goals, uncovering new passions, and maintaining a dedication to reach new heights. Discover what drives Asher and his unique perspective on working in Congress.
Can you tell me about your career path that you've taken that's led you to where you are now?
So I've always been a history and government nerd. At Missouri State University I was an active member of College Republicans and our pro-life student group. Upon finishing grad school I knew I wanted to do campaign work during the 2016 cycle. I served as the Missouri House Republican Campaign Committee (HRCC)'s Southwest Regional Director working with two state representative campaigns. Toward the end of the cycle the local congressman Billy Long's district director, who had been a mentor of mine and incredibly helpful throughout the campaign, asked me what was next and it was truly the first 'blank slate moment' in my life.
Most people in my position would go to Jefferson City to work for one of their candidates in the state house, but my studies didn't lend themselves to work in the state capitol so readily. He asked me "Why not D.C.?" and I had no good answer to that. He connected me with their team here, who were immensely helpful and gracious offering me an internship to use as a home base to find a job on Capitol Hill. Luck and timing, two things impossible to control despite our best efforts, were on my side in that as I was applying for jobs Senator Roy Blunt's office had an opening for a legislative correspondent position handling defense issues. Long story short, the interview process went well and I landed the best job I could have hoped for, handling the exact issues I wanted to, for the Member of Congress I most wanted to work for. I did a great two years in that office cutting my teeth on a great team.
Early on in the 116th Congress there was an opening on the Senate Veterans' Affairs Committee that I pursued successfully and I've been with another great team ever since. I'm happy to have survived the sink-or-swim test of moving to D.C. with no job, a 3 month lease, and a win bonus from HRCC to find my seat at the table or hitch hike home in shame. I was able to be co-lead for our corner on the largest expansion of health care and benefits for veterans in the VA's history, providing overdue relief and support to decades of toxic-exposed veterans. As I've learned and grown in my 6 years on Capitol Hill I encountered an expression I think holds true and that I keep in mind moving forward. "As our island of knowledge grows, so does the shore of our ignorance." There is so much to learn and remember working on the Hill, and as unpredictable as things can be- it really can be a great deal of fun, and you meet some incredible people and have some amazing opportunities to have your fingerprints on some pretty significant developments for the country. It's a privilege to be a Hill staffer and my main goal is continue growing and learning and working to deliver good outcomes for veterans in my current role.
What policy issues are you most interested/passionate about?
My academic background was in international affairs, and I retain that interest and hope to work my way back soon. When I started as a legislative correspondent, my portfolio included veterans which is an area I knew I needed to handle well and prioritize, especially as the grandson of a World War II veteran. In addition to the mail and related meetings, one of my duties was to greet and welcome to Washington, D.C. all Missouri Honor Flight groups that arrived.
Now, working on the committee of jurisdiction, I have the most fun "grab bag portfolio" in the veterans space that touches on a lot of what we do. I handle service dogs, adaptive sports, Second Amendment Rights, cemeteries and memorials, the Foreign Medical Program, and share lead on toxic exposure issues- among other things. I particularly value managing all things cemeteries, monuments, and memorials. My grandfather is buried in a national cemetery in Kansas, and as a non-veteran it is the one area I bring a measure of firsthand experience to. The proper, final honor and enduring gratitude our country shows to those who serve in uniform, and their grieving families, is important, and it's important that we get that right.
The best way I have found to manage is to be as proactive and prepared as possible in knowing and understanding your boss' priorities, the projects you are responsible for, where and who you can go to for answers – and how quickly you can expect to find those answers – and relying on your Outlook calendar like it's an appendage.
From experience I know how fast paced and stressful working on the Hill can be, can you give an example of an obstacle you have faced or explain any difficulty while managing your job responsibilities?
Time management. There's no one event-type obstacle that stands out as a specific case study to discuss, but rather a consistent thread in that the duties of the job will never neatly fit into the waking hours you have to do it. Enduringly there will always be work that needs to get done, and priorities will always be subject to interruption. Managing the consistent demands of the job amidst regular need to rebalance, and the occasional fire drill for urgent matters that come up, remains the most challenging thing for me.
There are never enough hours in the day, the schedule is never fully concrete, unexpected meetings will pop up, work product may go unused if an oversight trip falls through or the topic of a floor speech needs to change, etc., etc. My favorite expression holds true all too often in that "all the whack-a-moles like to pop up at the same time." The best way I have found to manage is to be as proactive and prepared as possible in knowing and understanding your boss' priorities, the projects you are responsible for, where and who you can go to for answers – and how quickly you can expect to find those answers – and relying on your Outlook calendar like it's an appendage. Tasks sometimes need to be punted until that afternoon, or the next day, or ground out past 6:00, and if nothing else there is always recess to work on longer term back-burnered projects that the normal work weeks haven't allowed time for. It can be a roller coaster for sure, but preparation helps as well as understanding the resources available to you.
What is your favorite restaurant in D.C.?
I'm a big fan of The Hamilton- not to be confused with Hamilton's which I also love, but am probably close to aging out of. Honorable mentions include Bluejacket, Biergarten Haus, and Blackfinn- go Chiefs!
To be featured or learn more, reach out to Gabi Thomas, and spread the word to any colleagues who would be interested.
Be sure to follow the LinkedIn profile for more news and to see who is featured each week!