Shaping a Career in Capitol Hill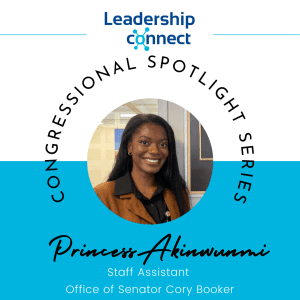 Welcome back Hill enthusiasts! We're back again, this time with Princess Akinwunmi, Staff Assistant for the Office of Senator Cory Booker. In this interview, Princess shares her insights on her prior work with the Congressional Black Caucus and on her previous position with the Office of Representative Nydia Velázquez.
As she reflects on her career path, she describes how her exposure to different roles and aspects of policymaking on Capitol Hill has affected her decision-making process and shaped her trajectory. Her journey ultimately led her to her current position in the Senate, and her experiences have increased her passion for advocating policies related to healthcare and housing.
Can you tell me about your career path that you've taken that's led you to where you are now? What were your goals before beginning your Hill journey and what are some of your new goals?
While I studied political science and criminal justice at Seton Hall University, I discovered that I was particularly interested in policy and all the background work that goes into amplifying American voices, and just doing work that could have a direct impact on the lives of others even in smallest ways. After I graduated in May 2022, I was driven to look for internships on Capitol Hill because of my passion for public service and interest in the criminal justice system.
I was fortunate to land a dual internship with the Congressional Black Caucus Foundation and the office of Congresswoman Nydia Velazquez, the chairwoman of the small business committee. My overarching objective during this time was to learn as much as I could about the roles on the hill, policy areas that interested me, and professional development. Fortunately for me, Congresswoman Nydia Velazquez's office was the best place I could've been placed because I was exposed to multiple policy areas, and I carried out different tasks for staffers which helped prepare me for future career opportunities. The staff members were very encouraging and nurturing and I was able to do hands on work on topics that truly piqued my interest.
I know how fast paced and stressful working on the hill can be, can you give an example of an obstacle you have faced or explain any difficulties you've encountered while managing your job responsibilities?
Transitioning from a college setting onto the Hill was a huge adjustment for me. My time on the hill began during recess so nothing could've prepared me for the in-session rush and the urgency in which things had to be done. The fact that I've had outstanding team members in both offices who consistently supported one another's success, in my opinion, was a huge asset. I prioritize stress-relieving activities as well, and I'm grateful to have my parents and friends to keep me grounded when I am overwhelmed. 
It was exhilarating but could also be extremely taxing and I found that communicating in times when I was struggling with managing my job responsibilities was an excellent way to get beyond that hurdle.
What policy issues are you most interested/passionate about?
While I was in Congresswoman Velazquez's office, I got to work on research for housing, healthcare and education and the more I learned the more passionate I got about the subjects. I discovered a lot about unstable housing, its effects on society, and how it relates to health inequalities and educational impediments, which sparked my interest in the intricacies of these problems.
What is your favorite restaurant in D.C.?
I had a great time at Brasserie Liberté. The food was fantastic, and the ambiance was very lovely. I'm looking forward to exploring and adding more restaurants to the list.
To be featured or learn more, reach out to Gabi Thomas, and spread the word to any colleagues who would be interested.
Be sure to follow the LinkedIn profile for more news and to see who is featured each week!