Building a Foundation: How Prior Experience Shapes a Career on Capitol Hill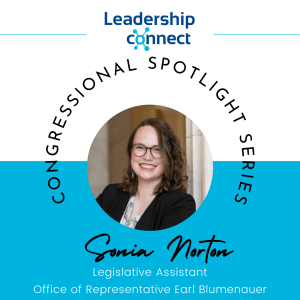 Have you ever thought about pursuing a career on Capitol Hill but felt unsure of where to start? This week's interview is perfect for you! I sat down with Sonia Norton to discuss her perspective on how gaining experience in other jobs before pursuing a Hill career can be an effective approach. She shares valuable insights that can help guide you in the right direction.
Sonia, a former Fulbright-Nehru English Teaching Assistant, discusses her path from working in India to her current positions as a Legislative Assistant for the Office of Representative Earl Blumenauer and Press Secretary for the Women's Congressional Staff Association. We explore her journey and discover how her prior experiences have been instrumental in shaping her work on Capitol Hill.
Can you tell me about your career path that you've taken that's led you to where you are now?
I studied Politics and Women's, Gender, and Sexuality Studies at Earlham College and along the way had the privilege of interning with my home delegation in Senator Boxer's Los Angeles office and Rep. Lieu's D.C. office. I knew that I wanted to build a career as a House staffer but took some time away from the Hill to serve as a Fulbright-Nehru English Teaching Assistant in the first ETA cohort in Vellore, Tamil Nadu, India. When I started the program, I thought I knew fast-paced work environments, but I quickly learned there's nothing quite like the energy of 50 eleven-year-olds paired with someone new to classroom management.
With plenty of embarrassing and learning moments and the help of many incredible mentors along the way, I completed the program in 2019 and moved to D.C. I had a brief internship with Rep. Lee (NV) before I was hired as Legislative Correspondent & Staff Assistant for Rep. Jayapal. I then served in Representative Kahele's freshman office as Legislative Aide & Correspondent before joining Representative Blumenauer's staff in 2022.
In the process of finding my support network on the Hill, I got involved in the Women's Congressional Staff Association and the work to expand opportunities and resources to support staff as we grow in this unique workspace. In addition to my legislative and more traditional career goals, doing more to support staff and help create opportunities for staff and potential staff who are prevented from serving or thriving here, especially those from marginalized communities, has also become an important path of the work I hope to advance on the Hill.
What policy issues are you most interested/passionate about?
I am a generalist with big opinions on many things. With that said, and even as I staff a variety of important issue areas, I am especially motivated by the work I get to do on asylum and Afghan SIV (Special Immigrant Visa) issues. Our nation has made clear promises to our allies in Afghanistan over the course of most of my lifetime, and I am passionate about helping advance legislation to better fulfill those promises. Afghan SIV and asylum policy are important intersections of human rights, international affairs, national security, and veterans' policy, and the coalitions in this work – both on and off the Hill – are a force. This work is a constant learning experience, and getting to work on it in the capacity I do in the House is a privilege I don't take lightly.
Understanding that I, like staff across the Hill, can best serve when I am taking time to rest, to participate in the D.C. community beyond the Hill, and really to just be an individual distinct from being a staffer is something I am still working on
From experience I know how fast paced and stressful working on the Hill can be, can you give an example of an obstacle you have faced or explain any difficulty while managing your job responsibilities?
Many of us came to the Hill because of a commitment to service and a belief in the work that should get done here. It can feel insufficient to work only during office hours and emergencies – or to fight so hard and still see the political landscape block good and bipartisan policy at the last minute. Time management helps keep work and tasks moving, but boundaries on and from the Hill are also extremely important in making the most of the opportunity to serve as a staffer.
What is your favorite restaurant in D.C.?
Sankofa Café because of the melts and cookies! It's part of Sankofa DC, which is also a fantastic bookstore, so if you're like me and are super susceptible to coming home with a new book regardless of how long your to-be-read list is, you've been warned.
To be featured or learn more, reach out to Gabi Thomas, and spread the word to any colleagues who would be interested.
Be sure to follow the LinkedIn profile for more news and to see who is featured each week!