Discovering Your Passion in Politics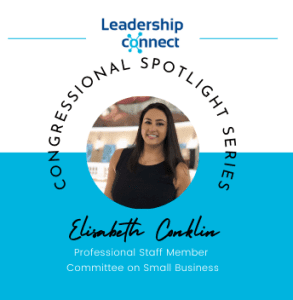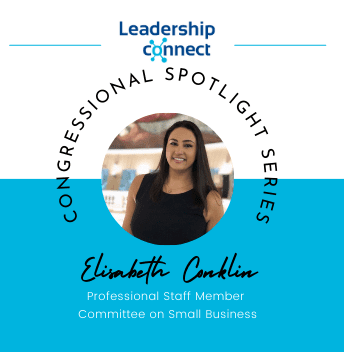 Are you curious about what it takes to forge a thriving career in politics? Look no further than our next interviewee, Elisabeth Conklin, who has accomplished just that!
Elisabeth has progressed from being an intern in a district office to attaining the positions of Legislative Assistant and, currently, Professional Staff Member for the Committee on Small Business. Throughout her career, she has remained focused on her passion for immigration policy while discovering more along the way!
Can you tell me about your career path that you've taken that's led you to where you are now?
I was always interested in politics, but I had no idea what a career in politics actually looked like until I interned for U.S. Senator Mark Kirk in college. I worked in his Chicago district office as an aide after graduation, handling immigration and Latino outreach. I loved my portfolio and had great mentors who gave me professional opportunities to travel to DC. I was inspired by the careers on Capitol Hill, and my goal then was to become an immigration policy staffer for a Member of Congress.
I ended up getting my foot in the door to Capitol Hill after the Senator's reelection loss. I visited DC to network with anyone that my mentors recommended. Soon I was connected to a staffer involved in a special election race taking place in my parents' district, where I worked as an unpaid volunteer for Karen Handel's campaign. After she won, I moved to DC to become the Congresswoman's Legislative Assistant. I handled everything from immigration, healthcare, education, telecom… you name it!
A few years later, I joined the Committee on House Administration as a PSM. I was part of the bipartisan Franking Commission team and dabbled in election policy and Member Services. I soon became the Franking Staff Director and loved the work in the role.
My initial goal to focus on one policy area changed. I'm more interested in expanding my policy knowledge by developing micro-niches. Because of that, I recently joined the Committee on Small Business as a generalist PSM. I am excited for the opportunity to do more policy and learn something new.
What policy issues are you most interested/passionate about?
I will always be passionate about immigration policy. It's complexity and layers are fascinating. I think there are a lot of creative solutions and good work that can be done here.
I'm also interested and actively learning more about energy policy because of how it plays an enormous role in our national security and global economy.
From experience I know how fast paced and stressful working on the Hill can be, can you give an example of an obstacle you have faced or explain any difficulty while managing your job responsibilities?
My first 2 bosses lost their reelection races, so I found myself unemployed twice! The second time, Republicans were in the Minority which meant that the Hill was a job desert for me and all the other GOP staffers who has also lost their jobs. I was STRESSED. I channeled my worry into a networking goal of making at least one new connection every day. I wanted to stay involved on the Hill as much as I could. And it paid off fast.
I accepted an opportunity to become an unpaid intern for another Member of Congress while I continued my search. It was a humbling experience to go from Legislative Assistant to unpaid intern in pursuit of a higher position. I stayed busy, made great connections, and quickly got the awesome opportunity to work for the Committee on House Administration.
What is your favorite restaurant in D.C.?
I love trying new places—especially wherever you can find quirky cocktails. But my top 2 favorite restaurants are Pho 88 in Chinatown and the Salt Line at the Waterfront. 
To be featured or learn more, reach out to Gabi Thomas, and spread the word to any colleagues who would be interested.
Be sure to follow the LinkedIn profile for more news and to see who is featured each week!