A Fresh Perspective in Politics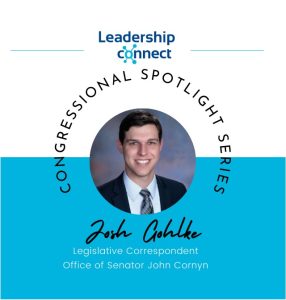 Hello, Hill enthusiasts! I am thrilled to introduce our next interviewee, Josh Gohlke, who has had a truly unique journey in the world of politics.
Starting at Akin Gump fresh out of undergrad, Josh had the opportunity to work on a policy portfolio right out of the gate. Now, having recently made the jump to the Senate as a Legislative Correspondent for the Office of Senator John Cornyn (R-TX), he's excited to continue that work in legislation and policy solutions.
Can you tell me about your career path that you've taken that's led you to where you are now?
I went down a fairly unusual path to get where I am now. Whereas a lot of people in D.C. start on the Hill and then move to the private sector, I started in-house, went to a firm downtown, and then came to the Hill. I was pretty fortunate to have gotten an engaging start in the world of politics when a summer government affairs internship turned into a part-time job, which I kept up through my last two years of undergrad. My first job after graduating was as a Public Policy Specialist with Akin Gump. Starting out at a lobbying firm was definitely a bit different compared with folks who went directly to the Hill, but it gave me a fantastic opportunity to work on a serious policy portfolio right out of the gate.
I only recently made the jump to the Senate, but I'm looking forward to being able to work directly on legislation and real policy solutions. It's clear that there are a lot of issues to be addressed right now in my policy areas, and I'm working with some great people who are laser-focused on achieving some big victories this Congress. I'm also excited to be getting in the weeds on a day-to-day basis and learning how to help move things across the finish line. A lot goes on here that can be tough to see from an outside perspective, but I'm diving in head-first.
What policy issues are you most interested/passionate about?
Trade, financial services, and tax are really the big issues that I love working on the most. I'm lucky to have worked on these issues in my former roles and to be focusing on them now as well in the Senate. At the end of the day, these are the big economic issues that really underpin a lot of policy discussions. That said, I'm really excited to be learning about and working on other parts of my portfolio that are new to me, including agriculture. With the Farm Bill in the works this Congress, that's definitely an area that will be ramping up for me.
In general, being willing to work on completely new issues is something that has helped me in my career so far and it's a trait that I recommend to anybody interested in coming to work in D.C. – I always like to highlight that I never thought about doing anything even tangentially related to financial services until I was hired to take the portfolio at Akin, and now finance and banking policy are a huge part of my focus.
You definitely have to be on your toes and be ready to roll with the punches.
From experience I know how fast paced and stressful working on the Hill can be, can you give an example of an obstacle you have faced or explain any difficulty while managing your job responsibilities?
Every day brings new challenges with it, especially if the Senate is in session. I only caught the tail end of a long work period before we went into recess, but it's already pretty clear to me that this is the time to recharge the batteries before we dive back in and get wrapped up in legislative work alongside constituent meetings. I'm gearing up for my first full work period in the office, so wish me luck.
What is your favorite restaurant in D.C.?
I'm a huge fan of Ambar – you can't go wrong there. A close second would be Family Ethiopian in Shaw.
To be featured or learn more, reach out to Gabi Thomas, and spread the word to any colleagues who would be interested.
Be sure to follow the LinkedIn profile for more news and to see who is featured each week!