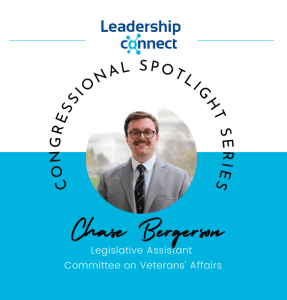 Welcome to the latest edition of our Congressional Spotlight Interview series! We have the pleasure of introducing Chase Bergerson, Legislative Assistant for the House Committee on Veterans' Affairs.
Chase shares his journey on Capitol Hill, highlighting his passion for national security and defense policy. But that's not all—he highlights the importance of good writing skills (marketable both on and off the Hill) and adding a more personal touch to networking with others working in Congress.
Can you tell me about your career path that you've taken that's led you to where you are now?
I originally moved to D.C. thinking that I would never end up on the Hill. I graduated from Gonzaga University in 2020 during the height of COVID with a history and international relations double major. I had a lot of reading, researching, and writing experience, but not necessarily a degree that I could advertise for the career path that I wanted. That led me to attending Georgetown for a master's in public policy to focus on national security, and defense. However, while attending school I got the opportunity to take several "Congress" classes, and eventually I got the opportunity to intern on Energy and Commerce. While there, I fell in love with Congress, specifically the House of Representatives.
After graduating, I knew that I wanted to work in the House, but I also really wanted to get on a committee however possible. I loved the idea of really diving into a specific area of policy and getting to be the subject matter expert for other personal offices. I also saw through my internship that Committee work was incredibly valuable and could really be the difference maker between a good piece of legislation, and a great one. I wanted to be that person that could make a difference in a bill and get it to a spot where it could be advanced through the House. Like probably many people reading this article, I sent out a ton of applications, and through my degrees and previous experience I got to become a staff member on the House Committee on Veterans' Affairs.
What policy issues are you most interested/passionate about?
I went to school because I was extremely interested in national security and defense, and that is still a policy area I love today. I am fortunate enough to also be on a Committee that allows me to pursue these interests for fun and for a profession. We not only focus on veterans, but we also have a pretty good amount of jurisdiction on reservists and national guard. A lot of the policy decisions I get to focus on do end up coming back around to the policy area I have really been passionate about for a long time. Many of these issues are also bipartisan so not only am I continuing to learn about these issues, but I sometimes even get to pass a bill on them!
Professional development is essential at all levels. How do you balance your responsibilities at work and expand your skill set?
I think it is super important, especially while on the Hill to find ways to expand your "hard skills" skillset. For me, I try to find ways to do a deep dive whenever on both the policy I am working on, but also more finite things unique to Congress. Looking at the statute a proposal would change, trying to figure out why a piece of legislation is worded a certain way, and trying to find the best way to write legislation and make sure Congressional intent are all ways that I try to go the extra mile. These skills are valuable not only on the Hill, but in the private sector as well. If I can prove that I know exactly what each bill means, and why it was written a certain way, I am better at my job, and I am also more marketable if I ever go off the Hill. These are certain skills I really try to improve whenever I can and would encourage everyone else to work on them as well.
How do you stand out when networking with colleagues on the Hill?
To me, networking on the Hill is all about taking the extra few minutes to connect with another staffer or stakeholder. When it is appropriate, I definitely try to have a conversation over phone instead of email or try to set up an in-person meeting because it allows me to form a better connection and have a stronger conversation. I think especially post-COVID, people are so used to having a Teams call with cameras off and only going through the basic meet-and-greet motions instead of taking more time to get to know someone. By having that in-person meeting whenever possible, you get that extra minute or two where you can relax a little more and get to know the person you are working with. You also hopefully expand that network and relationship to the point where if you need something, or the other way around, you are comfortable asking for it.
What is your favorite restaurant in D.C.?
It has to be Menya Hosaki. It is only open from Tuesday-Friday so it is hard to get to, but the ramen is unreal. I recommend just getting the classic shoyu, with a side with Karaage. Will make all other ramen places seem good, they will no longer really satisfy the ramen itch.
To be featured or learn more, reach out to Gabi Thomas, and spread the word to any colleagues who would be interested.
Be sure to follow the LinkedIn profile for more news and to see who is featured each week!