Mastering the Art of Networking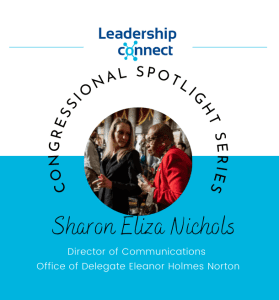 Welcome back to our latest Congressional Spotlight Interview! This week, we're excited to introduce Sharon Eliza Nichols, Director of Communications for the Office of Delegate Eleanor Holmes Norton.
Sharon approaches networking with a distinct goal in mind; rather than focusing on standing out, her primary objective is to learn from what others have to teach. But that's not all – she highlights the significance of authenticity when investing time and effort into networking and furthering genuine relationships.
Can you tell me about your career path that you've taken that's led you to where you are now?
During law school I did a great deal of extracurricular writing, both journalism and analysis. I started an online publication that won an award from the American Bar Association, wrote for the website Above the Law and interned at The New Republic. After seeing the power that expert journalism holds to shape legislation and public opinion, I began looking for ways I could fuse the subject matter that I loved – the law – and be involved in journalism. Doing communications for a lawmaker is the best blend of the two I've found.
I came to Capitol Hill as press secretary for Nanette Diaz Barragan (D-CA) in 2019 and found my position as director of communications for Eleanor Holmes Norton (D-DC) in 2020. Working for Norton has been the highlight of my career. I'm sincerely inspired by her lifetime of work.
What policy issues are you most interested/passionate about?
My answer here is atypical. Although I'm a Democrat, the issue I believe in most is the First Amendment and the importance of good journalism in well-functioning democracies. Countries where leaders aren't expected to answer tough questions are countries where government doesn't serve the people. I enjoy, and believe in, facilitating access so those questions can be asked and helping my boss formulate productive answers that speak to constituents' concerns.
The purpose of networking isn't "standing out" to me; the goal is to learn from what others have to teach.
How do you stand out when networking with colleagues on the Hill?
I ask questions! Even if I'm not entirely interested in the specific subject, I can learn from their tactics, strategies, and experience. While I do prepare before coffees or networking events to ensure I ask good questions, I try to peg those questions to aspects of the person's work I'm genuinely interested in. People can tell when you're not authentic, so I work to find an aspect of the person's work or experience I'm genuinely curious about and ask.
Professional development is essential at all levels. How do you balance your responsibilities at work and expand your skill set?
When I have free time, I prioritize interacting with other people. I learn from their knowledge and experiences. Colleagues have valuable lessons to teach, and in the end people make decisions – not circumstance or data – so relationships are the best place to invest time and energy.
To be featured or learn more, reach out to Gabi Thomas, and spread the word to any colleagues who would be interested.
Be sure to follow the LinkedIn profile for more news and to see who is featured each week!