Exploring New Horizons in Policy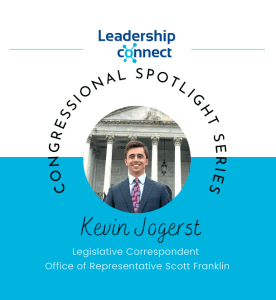 This week, I had a conversation with Kevin Jogerst, Legislative Correspondent for the Office of Representative Scott Franklin. Kevin shared a valuable tip for getting started with networking on Capitol Hill, suggesting a simple question like, "Want to meet up for coffee?" This straightforward question can have a significant impact. These coffee meetings can encourage positive self-reflection, leading to personal growth within and beyond the office. Kevin emphasizes the importance of actively engaging in various policy areas, building a strong network of peer and mentors, and remaining true to oneself as keys to success in his work on Capitol Hill.
Can you tell me about your career path that you've taken that's led you to where you are now?
I initially interned for Congressman Steube in Summer 2019 following my freshman year of college. When I realized my affinity for politics, I began interning in the Florida Legislature for my last several years in college. My internships allowed me to continue growing my knowledge on various policies and helped me build my resume for an eventual return to DC. Following my graduation from Florida State in Spring 2022, I worked as a Campaign Manager for a Florida Senate campaign, and then as Field Director for a Florida Congressional campaign. These campaign experiences helped me springboard to DC and land a job as Staff Assistant for Congressman Franklin, where I was soon elevated to my current role of Legislative Correspondent.
What policy issues are you most interested/passionate about?
When I first arrived in DC, I wanted to pursue federal policy experience related to foreign affairs. The longer I work on the Hill, however, the more interested I have become in areas like agriculture and healthcare – two policy areas with significant impact on my home state of Florida. The more I learn about a variety of policy areas, the more I find myself interested in things that had not previously piqued my interest. I am confident that the longer I work on the Hill, the more policy areas I will find interest in.
You can never be too kind, and no question is a bad one.
How do you stand out when networking with colleagues on the Hill?
My best advice for standing out is to simply be yourself. The Hill can seem like a daunting place where we, as young staff, try to do too much. When networking over coffee or at an event, I focus on being a kind, courteous listener who asks engaging questions. Especially when a more senior staffer is offering advice and counsel, asking pointed questions both opens the door for quality answers and shows that you take the conversation, and their advice, in a serious manner.
Professional development is essential at all levels. How do you balance your responsibilities at work and expand your skill set?
When I got to the Hill, I was quickly instructed that building a strong network of peers and mentors is a key avenue to success. In addition to staying on top of in-office responsibilities, I began reaching out to other Hill staff, particularly those who started in similar positions as myself, to connect over a cup of coffee. As I soon realized, picking the brain of different peers is a great way to identify personal skills in need of continued development. Constant introspection has enabled me to work on my professional development and translate those skills into better success in my role as Legislative Correspondent. The main focus is always performing at a high level in the congressional office, but networking is of nearly equal importance.
To be featured or learn more, reach out to Gabi Thomas, and spread the word to any colleagues who would be interested.
Be sure to follow the LinkedIn profile for more news and to see who is featured each week!