Navigating Professional and Legislative Growth on Capitol Hill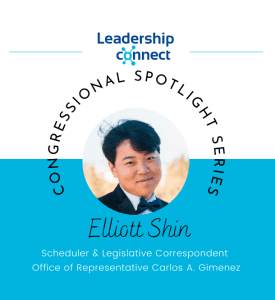 This week, we spoke to Elliott Shin, Scheduler and Legislative Correspondent for the Office of Representative Carlos Gimenez.
Elliott shares a few of his strategies for both professional and legislative growth on the Hill.
Emphasize time management and building relationships with fellow staffers throughout the Hill.
Take advantage of specialized courses and seminars offered to congressional staff.
Deliver high-quality work to showcase your readiness for greater responsibilities.
Can you tell me about your career path that you've taken that's led you to where you are now?
Over these past few years, my career has been a series of choices to push myself out of my comfort zones and into uncharted waters. My first big choice was to leave my home state of California and go to a new environment and community at Boston College. Then there was my unorthodox choice to study Philosophy, a degree with no standard practice for which direction to take one's career. Most recently, I took a leap of faith to bring the few things I owned and move to Northern Virginia to try and find work in Washington D.C. These uncomfortable decisions would expose me to opportunities that I would have never been able to find had I taken a more beaten path.
What policy issues are you most interested/passionate about?
My studies and passions lie in issues surrounding foreign affairs policy. This stems not only from my personal interest in the topic, but also from my familial background as a Korean American. My family's mother country, South Korea, exists in a delicate, but endless state of war and must rely on a strategic foreign policy posture to ensure its safety. My family has taught me this history and how it continues to affect those on the peninsula. This led me to not only become fascinated by the topic, but determined to understand the complicated politics and policies that led to the situation we see today. I hope to continue to study and gain understanding of this region, so in the future I can help form policy decisions that will positively impact the area. This passion is not limited to Korea, but also to all areas and conflicts around the globe.
When working multiple roles in a Congressional Office, I use time management and my relationships with co-workers to find opportunities for professional development.
Professional development is essential at all levels. How do you balance your responsibilities at work and expand your skill set?
Through organization and proactive planning, I complete tasks well before their deadlines, giving me time to work on other projects. By demonstrating I can prioritize certain tasks and complete them sufficiently, it signals to my colleagues that I am ready for greater responsibilities. These greater responsibilities include working on legislative issues for our boss. I also further my knowledge and expertise in policy by engaging in courses available to House staff on various topics. I recently completed a seminar that explored different national security postures toward the Korean Peninsula. Engaging in courses such as this and taking on different responsibilities within my office expands my skill set and helps me become a more well-rounded Capitol Hill staffer.
How do you stand out when networking with colleagues on the Hill?
When networking on the Hill, one of my most distinguishing features has been the story of my journey to working in Congress. In August of 2022, with the assistance of my mentors, I moved to Northern Virginia with only three suitcases. I worked as both a Chick-Fil-A team member in Purcellville, VA and an intern on Capitol Hill that commuted as far as from Harper's Ferry. These sacrifices are a few examples of my dedication and willingness to find an opportunity to work and learn on Capitol Hill.
To be featured or learn more, reach out to Gabi Thomas, and spread the word to any colleagues who would be interested.
Be sure to follow the LinkedIn profile for more news and to see who is featured each week!