Balancing Work and Growth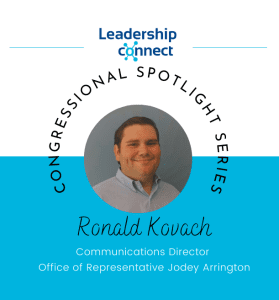 This week, we spoke to Ronald Kovach, Communications Director for the Office of Representative Jodey Arrington (TX, 19).
Can you tell me about your career path that you've taken that's led you to where you are now?
I started my career path as many on Capitol Hill do: as an intern when I was in college. After internships my junior and senior year, I knew working in government was something I wanted to do.
After college, I started my first full time job as a field representative on a Congressional campaign. That initial campaign led to a career in a Congressional district office as a caseworker and eventually led into me becoming a campaign manager.
The experience I gained in campaigns made me interested in the news/media world and the way members communicate with their constituents. I have since made a career out of assisting Congressional members in broadcasting their message via social media, interviews, and press releases.
What policy issues are you most interested/passionate about?
I am interested in most political topics which is why I chose to study political science in college, but I would say the areas I minored in, public and environmental affairs and international affairs, are where my passions lie. Whether it is talking about the contrast between fossil fuels and renewable energy or any aspect of America's relationship with the rest of the world, it's fair to say I'd be interested in adding my two cents.
Being able to have mentors, peers, and those who may look to you for advice in your circle are essential to professional growth and development.
Professional development is essential at all levels. How do you balance your responsibilities at work and expand your skill set?
Very carefully. I would say just as important as building skills is building relationships with those around you – no matter the profession. Having mentors will teach you how to excel, having close peers is good for having people that you can bounce ideas off of who are in a similar place, and mentoring others will make you think about concepts in different ways than you did when you were learning them for the first time.
If you could give one piece of advice to someone interested in working on the hill, what would it be?
Turn your job search into a full-time job. Those who succeed are those who put the work in. Daily you should be applying to jobs, looking for banks to add your resume to, and grabbing coffee with people who can provide insight into how to get where you'd like to go. I can't tell you the amount of conversations I have had with individuals who have wanted to work on the hill but their day to day is lacking these basic tenants to job hunting. If you are not working on your own behalf, it discourages those who would originally go to bat for you. Just because you are out of work/looking for work does not mean there isn't work to be done.
To be featured or learn more, reach out to Gabi Thomas, and spread the word to any colleagues who would be interested.
Be sure to follow the LinkedIn profile for more news and to see who is featured each week!