Advice for Aspiring Hill Staffers: Lessons from the Inside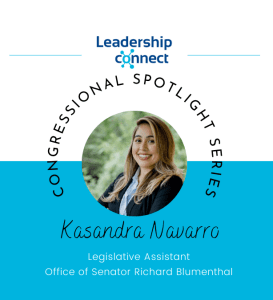 This week, we spoke to Kasandra Navarro, Legislative Assistant for the Office of Senator Richard Blumenthal.
Can you tell me about your career path that you've taken that's led you to where you are now?
My first experience on the Hill was in the Fall of 2018 when I interned for Congresswoman Karen Bass. She was my Representative, and I was very excited to work on issues that directly impacted my community. In her office, I was able to work on projects related to child welfare and the First Step Act.
After graduation, I moved to D.C. to intern for the Special Supplemental Nutrition Program for Women, Infants, and Children (WIC) under USDA (United States Department of Agriculture) through the Hispanic Association of Colleges and Universities' National Internship Program. I grew up in a food desert, so working for a program that helps children and pregnant mothers' access nutritious food was very special to me. Due to the pandemic, I was able to stay on for two years, resulting in a very unique internship experience. I was working directly with the program integrity branch and delved into issues related to regulatory compliance, vendor authorization, and fraud complaints.
In the Fall of 2021, I landed a fellowship with the Congressional Hispanic Caucus Institute (CHCI) and once again transitioned to the Hill. I spent nine months working for the Office of Senator Richard Blumenthal while completing weekly leadership training seminars with CHCI. After my fellowship ended, I was offered a full-time job as a Legislative Correspondent. Since then, I've been promoted to Legislative Assistant for the Senator.
What policy issues are you most interested/passionate about?
When I first joined the Senator's office, my interests were fairly narrow, but now I get to work on a variety of issues. I've always been passionate about nutrition and public health, but I also enjoy the work I do in education, agriculture, product safety, and appropriations. I am very fortunate to be in an office that allows me to think creatively and to explore issues I am uniquely interested in. My boss is also very proactive, which keeps the job interesting, and I'm consistently learning something new!
Professional development is essential at all levels. How do you balance your responsibilities at work and expand your skill set?
When I was a fellow, professional development opportunities were built into my program. Every Friday we had a mandatory training session to explore new skills and it was easy to balance. Now, I have to look for these opportunities on my own. My job can be really hectic, so I use out of session time to work on my skills. Thankfully, the Senate Learning Center offers a variety of courses and I sign up for as many as I can.
I also learn from my colleagues—we all have unique perspectives when approaching a problem and collaborating with them allows me to learn and refine my own skills.
If you could give one piece of advice to someone interested in working on the hill, what would it be?
Getting your foot in the door is only the first step. You have to be willing to work hard and take opportunities as they come. You may not land your dream job on the first try, but that doesn't mean you won't get another chance. With that said, the Hill is a small place, so remember to stay humble and be kind. You never know who you'll end up working with.
To be featured or learn more, reach out to Gabi Thomas, and spread the word to any colleagues who would be interested.
Be sure to follow the LinkedIn profile for more news and to see who is featured each week!