The Art of Asset Management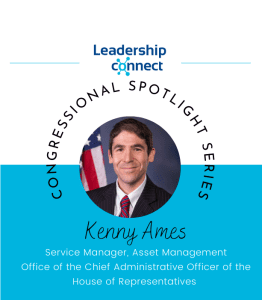 This week, we spoke to Kenny Ames, Service Manager, Asset Management for the Office of the Chief Administrative Officer of the House of Representatives [CAO].
Can you tell me about your career path that you've taken that's led you to where you are now?
I fell in love with D.C. on an eighth-grade field trip, so I chose to attend college here. After graduating from George Washington University, I went to work for Rep. Steny Hoyer (D-MD, 5) and then served my hometown Congressman Barney Frank (D-MA, 4). I knew I wanted a career in public service, and for the past 20+ years, I have worked directly for the House of Representatives or as a vendor, with a brief stint in crisis communications. I enhanced my education with an M.A. in Government and Political Communication from Johns Hopkins University. Five years ago, I returned to working for the House of Representatives after a decade in the private sector. As my journey hasn't been a direct path, I remember what my late mentor, Arnie Thomas, said, "You are your career."
How do you balance your day-to-day responsibilities as an Asset Manager particularly in the context of government operations?
Not two days are the same, so it keeps my day-to-day responsibilities interesting. I have managed a team responsible for helping offices with inventories and am currently working on a special project to ensure one of our vendors complies with our best practices. Knowing that Congressional staff did not come to the Hill to handle purchasing and inventory, I try to remind my colleagues that's why staff rely on us.
I instituted the principal of "polite persistence." Helping Members and staff by assisting them with these operational duties frees them up to concentrate on their Constitutional duties.
Can you describe a particularly challenging or rewarding project or experience that has contributed significantly to your professional growth?
I oversaw the Asset Management Member engagement with departing staff and Representatives. Many of them were not sure what they were going to do for work next, yet they still had to finish their duties for the rest of the term. Plus, they had to be responsible for their laptops and turn them back in since they are government property. It was quite rewarding to ease their stress and let them we were there for them. I implemented a common-sense policy and even had to consider an unexpected snowstorm and airline meltdown that delayed some staff from returning to D.C. prior to the end of the last Congress. It helped me grow professionally and it was satisfying to ease the burden on these staff.
What advice would you give to someone interested in pursuing a career in asset management, especially within a government or public-sector context?
Being good stewards of the taxpayer dollar is hugely rewarding. There are challenges in the government and limits on enforcement techniques, but that just means there are creative opportunities to accomplish our mission. For me, learning how to manage assets is part of my journey to grow so that I can become well-versed in technical, operational, and administrative support for Members and their staff. Look at getting into this field as part of an overall strategy to learn how we support the people that make government work.
To be featured or learn more, reach out to Gabi Thomas, and spread the word to any colleagues who would be interested.
Be sure to follow the LinkedIn profile for more news and to see who is featured each week!