Navigating Challenges and Embracing Opportunities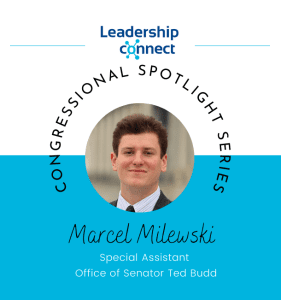 This week, we spoke to Marcel Milewski, Special Assistant for the Office of Senator Ted Budd (R-NC).
Can you tell me about the path that you've taken that's led you to where you are in your career?
The manner in which I had been raised plays a crucial part in this story. I was never in a position where my family couldn't put food on the table, but my parents made incredible sacrifices for me to be where I am. Whether it had been placing me in private school since the 2nd grade, or spending hours after their jobs to drive me to extracurriculars like Model United Nations, I was fortunate to have two parents that cared for me.
And the biggest reason I start with this is because I notice where I ended up, versus those who had been raised in the same neighborhood without such incredible parents. The friends I had would be getting into trouble, and at the time, I was unappreciative to my parents for 'forcing' me to stay away from that behavior. But it begins to make sense when those friends continue to get into trouble, while I build a career in Washington.
During my freshman year of college at The George Washington University, I would be placed on academic suspension. After the spring semester, I was sent a letter that highlighted my 1.1 GPA. I did not care for education, especially because of a certain indoctrination within the academic lessons being taught there. Yet, there is no excuse for performing so poorly and I placed the entirety of the blame on myself.
What did my father say? His words are what stick with me to this day. "Do you want to work with your hands for the rest of your life, like I do," he told me, amongst other strong words in his limited, immigrant-vocabulary. And with that, I made my decision.
I disenrolled from GW and lost the $60,000 or-so worth of financial aid and scholarships I had been awarded. After being told by multiple universities that it was 'mathematically impossible' for me to be accepted, I joined a community college and started with a clean slate. I have the mentality that if I can do something once, then I can do it again. After two semesters, I transferred to Liberty University and was surrounded by a strong, grounded community that helped me find my faith.
I applied for the "Washington Fellowship" program. This is something I am incredibly grateful for, and Liberty University helps their students excel by offering this opportunity. I wanted to find a position with an emergency management agency because of my firefighter background, but God guided me into an internship with Senator Tim Scott of South Carolina, instead. And it was for the better because this opportunity reinvigorated my passion for public policy. After 5 months with Senator Scott, I applied for a position as the personal aide of Senator Ted Budd from North Carolina and received it. I guess that I am an adopted-Carolinian, at this point.
Which specific legislative issues are you most passionate about, and how do you stay informed and engaged in those areas?
Although I am most passionate about artificial intelligence and the future of government regulation within that industry, I consider it important to focus on whatever you can get your hands on. Each morning I grab a few newspapers (The Wall Street Journal, The New York Times, and The Epoch Times) and sort through them, allocating certain articles to read throughout the day.
This is critical, especially in the field that I am in because you never know what you could hear and speak about throughout the day. Sometimes I read about the Federal Reserve and its latest development, or I might read an opinion-piece about the recent UAW strike. There are even more lenient days where I will be intrigued by 'Green Concrete' and its development to limit carbon emissions. I stay informed and engaged by constantly reading and absorbing information.
But to answer your question, AI is a field that I am passionate about. There is so much that can be done as it continues to evolve, and the ability to witness first-hand the development of regulations on what could be the 4th-industrial revolution is a privilege.
As a personal aide, you are constantly in the presence of Members of Congress. What are some habits, or pieces of advice, that you can share from what you have learned from them?
There are several habits I picked up. So, here are three pieces of advice I started to include in my daily routine.
1: Time Management and Working Out
Everyone likes to mention that they are "busy." They are too busy for the gym, they are too busy to read, and they are too busy to eat healthy. I would argue that they are not busy but inadequate at managing their time. When I arrive at the office at 6:00 AM, I witness a handful of Senators that are working out and being active with their time. Mind you, these are the same Senators that have the "busiest" schedules packed with late-night votes, fundraisers, and early-morning meetings. If Members of Congress manage their time well enough to work out or read a book, I make it my duty to do the same.
2: Family and Reading the Bible
When I stepped foot on the campus of Liberty University, I felt at home in my faith. It was easy to be a Christian because I was surrounded by God's creation. However, this feeling quickly dwindled when I moved to Washington, D.C. It wasn't until I started working with Senator Budd that I remembered all that Jesus has done for me. One of the first things I noticed was how faithful and principled Senator Budd is, and how faithful and principled other (select) Senators are. I noticed how these Members of Congress would 'block out' time from their busy schedules to attend a weekly Bible study, or to make time to call their family members (people that actually matter in one's life). Listening to the Word each morning is such an incredible way to begin your day and calling your family for 10 or 15 minutes is a great method to wind down with.
3: Confidence in One's Actions
This is a big one. When your entire career is based on being around important people throughout the day, there isn't much room to mess up. There isn't much leeway to second-guess where you go, or what you say. I tend to notice how Senator Hawley and Senator Kennedy (amongst other Senators) deliver their words: with vigor. There is no need for the "ums" or "maybes" in the way you speak. The ability to be articulate in what you think and speak about requires preparedness and confidence. Surely, I had confidence when I graduated high school or moved to Washington, D.C., but that's nothing in comparison with how I am today. When you speak and act with confidence, you will attract the respect and attention of people from every background.
What do you believe sets Capitol Hill apart as a unique work environment, and how do you navigate its challenges in your everyday work?
There is a reason this joke exists: the opposite of Congress is progress. Capitol Hill is an exceptionally unique work environment because I would compare it to the liking of football. One party is on offense (the majority), while the other party is on defense (the minority). The offense will take the ball up the field (create a bill), just for the defense to cause a 4th-down (add an undesirable amendment) and start the process all over again. And every so often you will have a lobbyist (the referee) choose sides; which then causes the fans (the constituents) to suspect corruption and grow tired of watching the game (Congress).
It is tough to think of another industry that is similar to Capitol Hill; because imagine if a company's marketing department was split into two sides that are actively working against each other. Doesn't that seem so counterproductive and illogical? This isn't to say that there is no bipartisanship on Capitol Hill, but I would highlight that the unwanted partisanship is what makes this field much more unique.
I sift through the challenges of my environment by keeping an open mind. I tell this to anyone who has a discussion with me: I will respect you for what you believe in, but you have to explain to me why you believe it. I don't take things personally, and I don't develop a 'hot-head' over something as silly as a few, disagreeable words. Unfortunately, I can't say the same for the rest of Capitol Hill so I leave you with this: we must display understanding and have conversation with those who we may not agree with; because, as we continue to live in a generation where our media is manufactured for pleasure and not truth, we become dangerously close to immortalizing a society that is content with pleasure, and not truth.
Word association, what is the first word that comes to mind for each of these?
Policy – Opportunity
Networking – Cheapened
Writing Skills – Articulateness
Working on the Hill – Potential
Leadership Connect – Relationship-Building
To be featured or learn more, reach out to Gabi Thomas, and spread the word to any colleagues who would be interested.
Be sure to follow the LinkedIn profile for more news and to see who is featured each week!