Webinar
DOD Technology: Reskilling and Growing the Workforce
From Leadership Connect
Incorporating emerging technologies is a prime agenda for agencies today. While introducing new technology is important, it is how an agency chooses to use them that effectively helps them make the most impact. Closing the gap between technology skills needed for a mission driven success company and its staff is one of the most important challenges government agencies are facing today, as the need for reskilling is foundational within the DOD Cyber Workforce Framework.
The Department of Defense must now identify and track civilian workforce skill sets and match them to appropriate jobs. Tune into this panel as topic experts explore the challenges the DOD faces with upskilling and reskilling its workforce, as well as the solutions they are putting in place.
What best strategies do these topic experts recommend in identifying talent and matching them to the best job?
What are some of the best practices these panelists are taking to reskill and upskill the workforce?
Speakers
Tammy Krum
Cyber Testing Branch Head
U.S. Navy
Mrs. Tammy Krum is the Cyber Testing Branch Head at Naval Surface Warfare Center Dahlgren Division Dam Neck Activity (NSWCDD DNA) in Virginia Beach, Virginia. Mrs. Krum holds a Bachelor of Science in Computing and Security Technologies from Drexel University. She has been with NSWCDD DNA for the last thirteen years were she has supported a number of different programs in varying capacities to cover a spectrum of Cybersecurity work. In her current capacity, Mrs. Krum leads a comprising the NAVSEA Red Team and multiple cyber engineers supporting efforts on the National Cyber Range Complex. This role involves recruiting, retention, and professional development of the Cyber Workforce.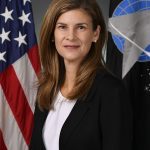 Katharine Kelley
Deputy Chief  of Space Operations for Human Capital
U.S. Space Force
Ms. Katharine Kelley, a member of the Senior Executive Service, is the Deputy Chief of Space Operations for Human Capital, U.S. Space Force. She provides executive leadership and managerial direction for the Space Force in all functional areas of personnel management to include force structure analysis; personnel programs; civilian personnel; readiness; senior officer matters; quality force issues; equal opportunity; and family support for military and civilian personnel located at 175 locations worldwide in support of the service's space launch, space surveillance, missile warning, and satellite command and control operations.
Ms. Kelley earned a commission through the Army Reserve Officer Training Corps program at Villanova University as a Logistics Officer for the 1st Infantry Division. She transitioned to a civilian role within the Department of the Army working the most comprehensive base realignment and closure process in the department's history, as well as managing logistics, enterprise infrastructure, and space management. In 2016 Ms. Kelley assumed responsibilities as Superintendent at Arlington National Ceremony where she was responsible for rebuilding trust and confidence in the Army's operation of the cemetery and setting the strategic direction for recapitalization, expansion and technology innovations. Prior to her current position, Ms. Kelley served as the Chief Human Capital Officer for Army Futures Command. There, she stood up the command's headquarters in Austin, TX and served as the senior advisor on all aspects of human resources including the establishment of the Army's first software focused training for soldiers and civilians.
Moderator

Chief Solutions Officer
Leadership Connect
Alan is the Chief Solutions Officer at Leadership Connect.  He also serves as an Operating Advisor to Enlightenment Capital.  Prior to these roles, he was appointed and served as the Commissioner of the US General Services Administration's Federal Acquisition Service from June 2017 until November 2019.  As Commissioner, Alan led 3,500 people responsible for delivering $65B in acquisition and technology solutions annually to enable efficiencies across the federal government.  He also served as a founding member on two Congressionally mandated boards, the Technology Modernization Fund and the Federal Acquisition Security Council.  
Alan started his federal career as a Presidential Management Fellow, serving on both the Army staff and in the Office of the Under Secretary of Defense for Acquisition, Technology & Logistics, where he earned the Secretary of Defense Award for Excellence and the Vice President's Hammer Award for innovation in public service.  Later in his career he returned to public service as a member of the Department of Defense's Task Force for Business and Stability Operations in Iraq and on the staff of the Undersecretary of Defense for Intelligence. 
In the private sector, Alan held several leadership roles including Chief Operating Officer at both IntelliBridge and Berico Technologies, Vice President with Data Networks Corporation, and as a business unit leader at Unison.  Earlier in his career he held delivery and account management roles with Booz Allen Hamilton and FreeMarkets. 
Alan holds a Master of Business Administration from Carnegie Mellon University's Tepper School, a Master of Public Affairs from the University of Texas's LBJ School, and a Bachelor of Arts from Grinnell College.  He maintains an active security clearance. 
Alan provides guest commentary to Federal Computer Week and the Federal News Network.