The 2017 National Defense Authorization Act, which goes into effect on February 1, 2018, set out the guidelines for a new position at the Department of Defense (DOD)—the chief management officer.
Currently, chief management officer duties fall under the responsibilities of the deputy secretary of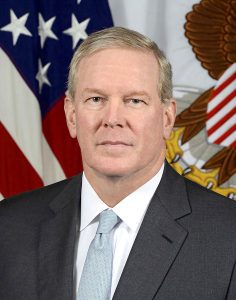 defense, but the new position will also include responsibilities currently held by the agency's CIO.
John H. Gibson II was chosen for the new role, and on January 22, 2018, his nomination was sent to the U.S. Senate.
Gibson currently serves as DOD's deputy chief management officer, a position he was confirmed to in November 2017. Prior to his confirmation, he served as the president and chief executive officer of XCOR Aerospace, Inc., a developer, and producer of aerospace engine systems.
From 2007 to 2009, Gibson was the assistant secretary and comptroller for the Air Force, and from 2006 to 2007 he served as the deputy under secretary of defense for management reform.
Gibson received a bachelor's degree in economics and a Bachelor of Business Administration from the University of Texas at Austin. He also holds a master's degree from the University of Dallas.