John Fleming and Ben Williamson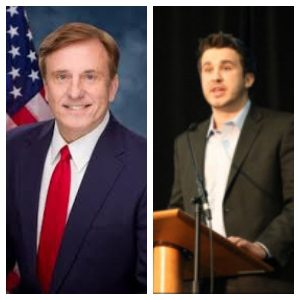 (pictured right of Fleming) joined the White House Office of the Chief of Staff as Senior Advisors. They report to the newly appointed Chief of Staff, Mark Meadows, who officially started on March 31. 
The Office of the Chief of Staff protects the interest of the president by supervising White House staff, advising the president, and managing the flow of information. 
Fleming, appointed by President Donald Trump, served as Assistant Secretary for Economic Development at the Department of Commerce (DOC) and Deputy Assistant Secretary for Health Information Technology at the Department of Health and Human Services (HHS). Fleming was responsible for advancing the federal economic development agenda at DOC and improving medical technology at HHS. Preceding his appointed positions, Fleming served four terms as the Representative of Louisiana's 4th Congressional district. 
Fleming received a B.S. and M.D. from the University of Mississippi in 1973 and 1976, respectively. 
Williamson transitioned from his prior roles as Chief of Staff and Communications Director within the Office of Representative Mark Meadows. He acted as liaison between the local and national press to promote Meadows' achievements in Congress. 
Williamson received a B.A. from Patrick Henry College in 2015.