By Andrew Ramos-Flynn & Sidney Jones
Many staffers have overlapping career histories, notably at CSIS and ISP
Kathleen Hicks is the first woman to serve as Deputy Secretary of Defense
Hicks facilitated signing of JADC2 and creation of a Chief Digital and AI Officer
Leadership Networks identifies 11 defense appointees with ties to Hicks
With many of the Biden administration's political appointees coming from liberal-leaning think tanks such as the Center for American Progress or the Brookings Institution, it's common for cabinet secretaries and top political appointees to bring on former colleagues. Understanding these professional relationships gives insight into departmental dynamics and creates opportunities to connect with people who are close to the most senior leaders in government. Take the Department of Defense, for example.
On top of the large waves of political appointees that were deployed in the Department of Defense during the initial months of the administration, many slots have been filled with staffers who have overlapping career histories, notably, at the Center for Strategic and International Studies (CSIS) International Security Program (ISP).
CSIS is a nonprofit organization that analyzes global and domestic issues, and supplies strategic foreign policy guidance to the government and other international institutions. ISP focuses on defense strategy and threat analysis in relation to national security.
Before Deputy Secretary of Defense Kathleen H. Hicks was sworn in as the Pentagon's second-highest ranking civilian, and the first woman to serve in the role, she served as senior vice president and Henry A. Kissinger chair at CSIS, as well as CSIS ISP director from 2013 until January 2021.
By using Leadership Networks, we identified 11 current defense appointees who previously held positions at the Center for Strategic and International Studies and the International Security Program during the period when Hicks led the organization.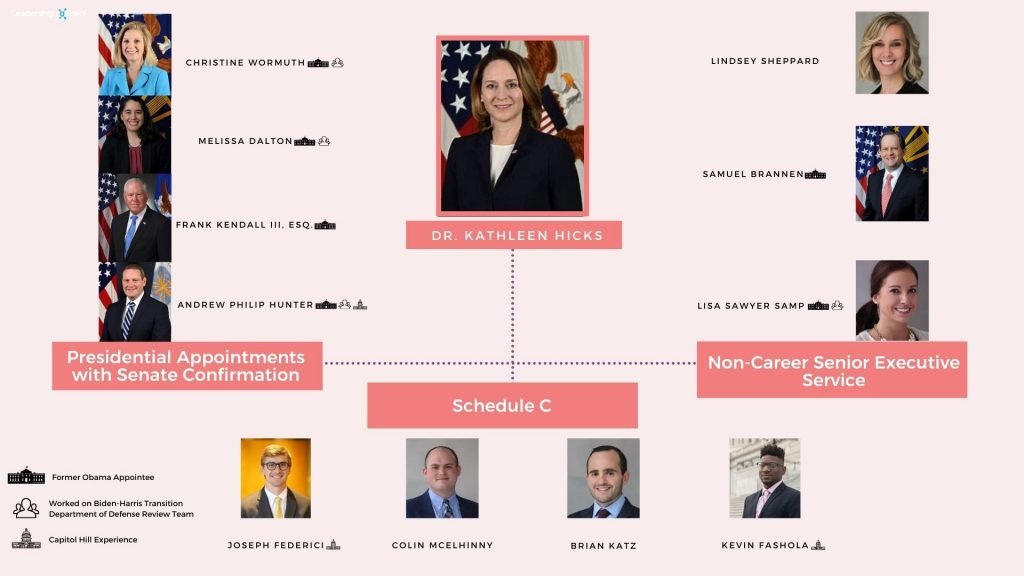 Presidential Appointments with Senate Confirmation (PAS)

Name
Current Position
Connection to Kathleen Hicks
Christine E. Wormuth
Secretary of the Army
At the helm of the Army, Secretary Wormuth served as a senior advisor to the ISP from January 2017 to June 2018. She also worked at the Pentagon simultaneously as Hicks during the Obama administration.

Frank Kendall
Secretary of the Air Force
Leading the Air Force and its $168b+ budget, Secretary Kendall's career spans over 50 years. In addition to serving in the Obama administration, he worked as a senior advisor to the ISP from February 2017 until July.

Andrew P. Hunter
Performing the duties of Under Secretary of Defense for Acquisition and Sustainment and Assistant Secretary of the Air Force for Acquisition, Technology and Logistics

Hunter and Hicks were colleagues at CSIS while he served as director for the Defense-Industrial Initiatives Group and as ISP senior fellow from 2014 until 2021.
Melissa G. Dalton
Assistant Secretary of Defense for Homeland Defense and Hemispheric Affairs
Dalton was a senior fellow and deputy director of the ISP from February 2017 until inauguration. Now she is in charge of providing defense continuity and mission assurance policy guidance to the secretary of defense.

Non-Career Senior Executive Service (NA/SES)

Samuel J. Brannen
Deputy Assistant Secretary for Plans and Posture
Brannen worked with Hicks as a senior fellow and director of the ISP's Risk and Foresight Group from September 2018 to April 2021.

Lisa Sawyer Samp
Senior Advisor, Office of the Secretary of Defense
Prior to advising Secretary Austin, Samp served as a fellow and then senior fellow to the ISP from 2015 through 2017.

Lindsey R. Sheppard
Special Assistant to the Deputy Secretary of Defense
With an ISP career spanning from March 2018 to August, Sheppard was an associate fellow, then fellow for the program. She has also written reports alongside Hicks.

Schedule C (SC)

Joseph P. Federici
Speechwriter to the Deputy Secretary of Defense
Federici worked at the ISP from 2017, rising from a research intern to an associate director and associate fellow, until joining the Department of Defense in March 2021.

Colin McElhinny
Special Assistant to the Deputy Secretary of Defense
McElhinny started at CSIS in September 2014 as a William J. Taylor intern. After, he worked as an ISP program coordinator and research assistant, program manager and research associate, and eventually became a CSIS associate director and associate fellow for congressional and government affairs in September 2017.

Brian Katz
Special Assistant to the Under Secretary of Defense for Intelligence and Security
Katz worked with Hicks as an ISP fellow and director of the CSIS Technology and Intelligence Task Force from September 2019 through January 2021. Before that, he was a visiting fellow at CSIS.

Kevin A. Fashola
Special Assistant to the Secretary for International and Security Affairs
Now in the Office of the Secretary of Defense, Fashola was an ISP visiting fellow from 2019 to 2020.
These appointees represent a few trusted ties to Deputy Secretary Hicks.
From this list:
55% are former Obama appointees.
27% have Capitol Hill experience.
36% worked on the Biden-Harris Transition Department of Defense Review Team, which was led by Dr. Hicks.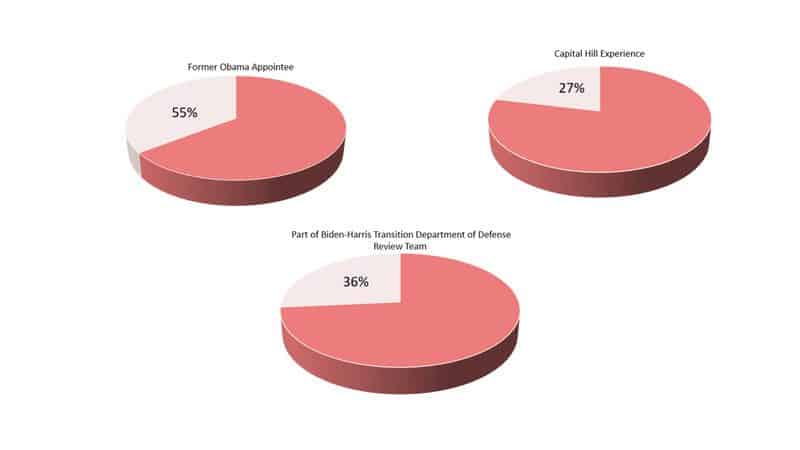 About Kathleen Hicks
Hicks joined the Department of Defense in 1993 as a career civil servant. In 2006, she departed for the Center for Strategic and International Studies, where she worked as a senior fellow until 2009. She rejoined the Department of Defense as an Obama appointee from 2009 to 2012, serving as deputy undersecretary of defense for policy and deputy undersecretary of defense for strategy, plans, and forces. Hicks graduated with an A.B. from Mount Holyoke College and an M.P.A. from the University of Maryland. She also holds a Ph.D. from the Massachusetts Institute of Technology.
In her current position, Hicks plays an integral role in shaping U.S. national security strategy and defense reform policy. Since returning to the Defense Department, she has brought a wealth of civilian bureaucratic experience, which she has used to implement numerous departmental policy changes and procedures, the latest being the signing of the JADC2 Implementation Plan and the creation of a chief digital and artificial intelligence officer.
With a lengthy national security background and over two decades of Pentagon experience, Hicks is well-connected with people in government and the nonprofit sector.
Leadership Networks shows links between people and organizations to uncover connections and help with contacting the people you need to know.
Subscribers can access Hicks' best connections here.