Leadership Connect in partnership with the Government Relations Association, hosted a panel of intergovernmental affairs rock stars on June 21st who provided practical solutions helping practitioners avoid endless cycles of negotiation and deliberation. The Movers & Shakers® webinar brought together over 100 government relations executives and resulted in tips and tricks to move the lever forward.
As federal funding is distributed to tribal, state and local governments, government relations professionals must quickly adjust to those changes and effectively act in collaboration and cross functional policy making.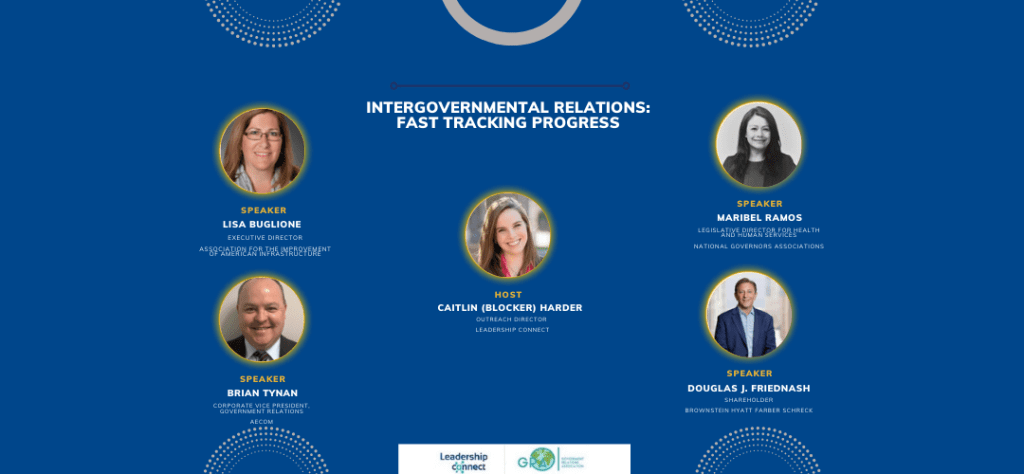 Here are their tips:
The COVID crisis and response created a model for effective federal and state collaboration.
NGA (National Governors Association) coordinated a series of calls to include stakeholders for Governors to hear directly from the white house and private sector. The calls resulted in more transparency, cross-aisle solutions and regional alliances to build purchasing power.
Ongoing briefings and calls continue the momentum as the nation approaches the next phase of recovery.
Navigating the infrastructure bill requires knowing who's who and best practices.
The Build America Bureau enables S&L Governments to gain funding and technical assistance. The Bureau works closely and coordinates with states, municipalities, and project sponsors looking to utilize federal transportation expertise; apply for federal transportation credit programs; and explore ways to access private capital in public private partnerships.
AIAI supports members by connecting cities with similar needs and sharing stories of success and lessons learned.
Partnerships make an impact.
Infrastructure crosscuts through governments and the private sector. To reach the large a audience, AECOM and Brownstein sponsor and participate in association events, learning and membership. Organizations like AIAI and NGA offer industry packages to bring their expertise to members and provide awareness of best practices and thought leadership.
NGA's participation in the Big 7 supported the advocacy efforts and impacted the outcome of the state legislation. The Center for Best Practices helps states utilize the funding.
Coalitions are key. Build relationships with likeminded organizations seeking the same goal.
Increase in influence and activism, education and advocacy.
The latest round of pandemic aid created a flurry of federal funding distribution with interests from all. Lobbying at the state and local level and being able to speak directly to decision makers has emerged as the most vital level of relationships.
AECOM has noticed that the federal government has increased the level of transparency and improved the response from Local Governments.
The most important part of building effective solutions is educating your audience and providing proven success stories to help them visualize the possibilities.
It's all about relationships.
Know your audience, who they are talking to and their viewpoint. Build a narrative for them to support.
Always build bipartisan relationships.
Network and build relationships before you need them. Establish trust.
Innovation requires relationships.
Overcommunicate, stay in front of your stakeholders.
Enabling career success.
Start networking early on in your career. It's critical to navigate who's who in helping you move forward.
State experience makes a difference at the federal level since they are required to build the relationships at all levels. Communication and innovative problem solving at the state level creates a foundation to navigate federal issues.
If we had a crystal ball, what's next?
Issues have been exacerbated due to COVID, and some even backburnered. We might see education and mental health issues come to surface as a side-effect of impactful issues post-pandemic.
Investments in the infrastructure bill impacting energy are present but will likely expand. Climate resiliency on the East Coast and drought and water needs on the West Coast create new demand for action.
Missed the discussion? View the panel here.