The Leadership Directories, also known as the Yellow Books, contain accurate, detailed contact information—including emails and direct dials—on industry leaders.
We are sunsetting our Yellow Books.
Thousands of clients have upgraded to our digital services for better service:
Easy access for your whole organization
Daily updates help you keep up with rapid changes
Government org charts help navigate complex hierarchy
Many more profiles with much deeper intelligence
Learn More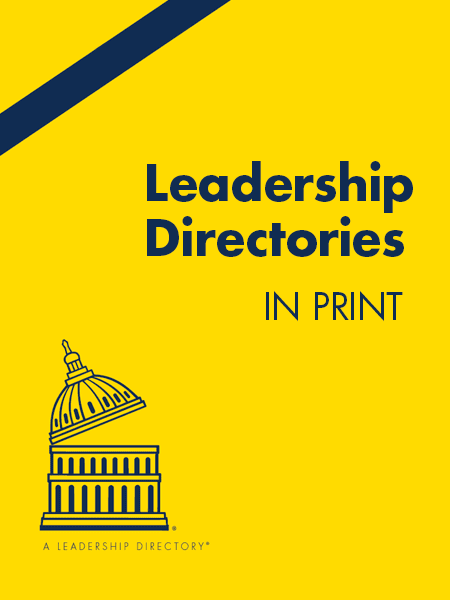 Government
The most in-depth and up-to-date coverage available of federal, state, and local governments
Stay informed on the people who influence the legislation and regulations that affect your organization.
Search for staffers by committee, representative, or legislative responsibility.
Find the officials responsible for acquisitions, purchasing, IT, and public services at departments and agencies across the United States.
Pinpoint where key players are located on the Hill.
Nearly 40% of government roles change each year.
Directories: Congressional Yellow Book, Federal Yellow Book, Federal Regional Yellow Book, State Yellow Book, Municipal Yellow Book, Judicial Yellow Book, Directory of State Court Clerks and County Courthouses, Federal-State Court Directory
Media
The definitive directory of reporters, editors, producers, and news executives
Easily search for journalists following your issues, by outlet or by beat.
Coverage of over 1,500 news media organizations.
Prepared by our expert team of researchers.
Outlets ranging from local papers to global networks.
Be confident that you're reaching out directly to the right people in the right places.
Directory: News Media Yellow Book
Business & Nonprofit
Detailed profiles of C-Suite executives, board members, and other leaders
Fresh and updated contacts for your sales efforts.
Get to know who you're meeting with before you get to the meeting.
Build coalitions with aligned corporations, associations, and think tanks.
Find the counsels and legal affairs contacts you need to get the job done.
Connect directly with the people in charge of charitable giving, recruitment, IT, and other critical departments.
Directories: Corporate Yellow Book, Government Affairs Yellow Book, Law Firms Yellow Book, Associations Yellow Book.

Data previously published in the Financial Yellow Book, Foreign Representatives Yellow Book, or Nonprofit Sector Yellow Book is now only available as part of Leadership Connect.
Leadership Directories
Only Published for Libraries and as a Courtesy to Existing Subscribers