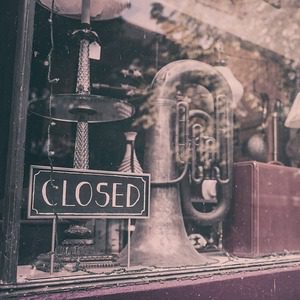 When the United States first entered lockdown in March as a result of COVID-19's spread, the virus had already begun to take its toll on people and businesses alike. Since then, businesses have been scrambling to adapt but, for some, the pandemic has accelerated their decline. While the American economy continues to be depressed from the pandemic-induced downturn, it is important to look to some of the largest companies that have declared bankruptcy, to understand risk.
The need to adapt is clear in retail, where online shopping has continued to grow. Note that the pre-pandemic bankruptcy/restructuring list was a large one, where physical footprints shrunk.
J.C. Penney declared bankruptcy on May 15, only two months into the lockdown. Of course, it has been struggling for years. Other apparel giants folded even sooner with J. Crew Group filing on May 4 and Stage Stores on May 10. Ascena Retail followed on July 23. All had pre-pandemic declining sales. Even Neiman Marcus, having declared bankruptcy on May 10 and surfacing on September 25, has only placed the burden of recovery on their future business with heavy investments from new owners and many loans to buoy a damaged business.
In the oil and gas industries, companies relying on the oscillating prices of the global exchange market, have now been forced to contend with a worldwide reduction of demand, rendering some of the biggest producers in the world near obsolete. Whiting Petroleum Corp. was the first on April 1, then Unit Corp. on May 22. Extraction Oil and Gas followed on June 14, with California Resources Corporation on July 15, and Chesapeake Energy Corp. on June 28. Oasis Petroleum Inc. has been the latest casualty, filing for bankruptcy on Sept. 30, which coincided with Whiting Petroleum surfacing from bankruptcy, hoping to weather the ongoing storm with a more fiscally conservative approach. In all cases, these oil and natural gas providers have been experiencing downturns in recent years, evident in the previous bankruptcies of McDermott International and Foresight Energy, both of which filed this year before the lockdown even started. Renewables are another story.
It is not just the companies with outdated or risky business models that have suffered. Even companies with years of growth have collapsed as the pandemic has fundamentally challenged stable sources of income. Companies like Hertz Global Holdings and car parts provider Garrett Motion have been unable to sustain their businesses in a year where the demand to travel by car has cratered. Hertz, which has been saddled with debt, declared bankruptcy on May 22, and Garrett Motion filed on Sept. 20.
These are by far not the only organizations or business models being affected by the pandemic, with damage to the restaurant (where there is a glimmer of hope without more lockdowns), entertainment and telecommunications industries still unfolding. And yet, as some of the biggest companies in the country start to teeter, the delivery and tech-based industries are seeing a golden age for their businesses, one that they themselves may need to address when the next great change is upon us.