Shape Opportunities. Win Contracts.
Simplify all aspects of your strategy, from developing relationships to discovering substantial contract opportunities for your organization.
Request a Demo
Trusted by thousands of government contractors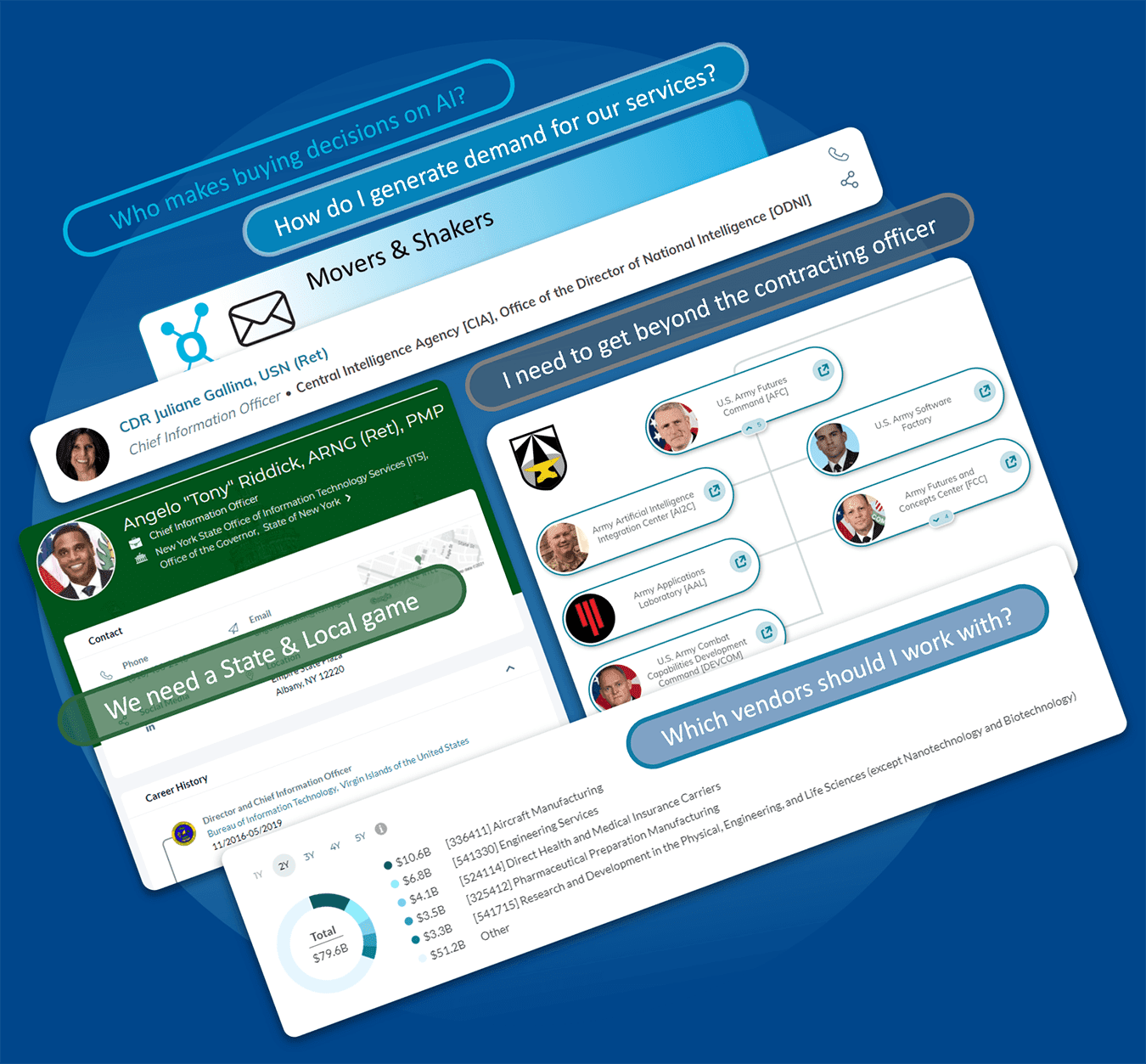 Case Study

McKinsey was struggling with penetrating new agencies where they had no pre-existing relationships as their competitors were crowding them out. They were also challenged by maintaining existing agency relationships because of turnover within the Administration.​
Problems solved: Uncovered key relationships they did not know existed, nor that they had connections to. Ease of use limited onboarding time and encouraged adoption. Growth rate of the unit increased by 25%.​
Case Study

Microsoft's Federal, State & Local Government sales teams were spending 30% of their time researching names on Google and outdated public sector sites to connect with the right people with minimal success. They needed the ability to not only identify and connect with key government decision-makers, but understand the reporting structures within and across federal, state and local government entities​​
Problems solved: Microsoft sellers using Leadership Connect are now exceeding their sales quotas by 30% vs. non-users.​​
John Roberti

SVP, Government Relations & Strategy, Cubic Corporation

"Leadership Connect puts information on key leaders at my fingertips when and where I need it. I use it everyday and find it extremely valuable in navigating the rapidly changing organizational structures of government and industry. I wouldn't want to start executing a government strategy without it."
Paul McNeill

VP, Industry & Government Relations, Click Bond, Inc.

"Leadership Connect is a one-of-a-kind resource that accelerates our company's progress in government and industry. I value their responsiveness and continual improvement in their solutions."
Microsoft

Federal Accounts

"Excited to know I see administration updates as they happen. The Networks feature will help me redevelop my relationships and show me who else I should be talking to."
Northrop Grommon

Mission Systems

"It's my go-to resource for understanding the individuals and organizations we want to do business with. The organizational charts are exactly what I need."
Albert Nieves

Managing Director, Federal Government Practice, Galvanize

"If you don't have Leadership Connect, you're setting yourself up to fail."
Robert Shea

Principal, Grant Thornton Public Sector

"There is no more reliable source for information about the organizations and people with whom we are trying to do business. Leadership Connect is an indispensable asset in any business development or policy advocacy endeavor."
Microsoft

State & Local Sales Director

"Leadership Connect is really impressive in streamlining my outreach efforts as I try to be more proactive vs. reactive. I'm already seeing value from the platform and I'm excited to leverage it in growing my accounts. It'll save us a ton of time."
Visualize the Most Impactful Opportunities
Develop your strategy, build relationships with decision makers, and track funds
Create Simple, Repeatable Strategies for Winning
Don't waste time on pre-decided opportunities – become the top-of-mind relationship. Our clients have found that over 50% of their contracts are awarded from preexisting relationships.  Your public sector sales team needs a solid starting point, and Leadership Connect makes your strategy simpler to execute. Find out who you need to know, where to dedicate your initial efforts, how to connect – and repeat.
Leverage your organization's best relationships in support of your Fed/SLED sales objectives
Prioritize relationships with offices most likely to buy from your company
Open opportunities, award history, and strategic plans indicate interest, with the only patented tool linking contracts to the decision makers
Identify past contract winners, and break the cycle
Work Together to Build Public Trust
Ease the legwork in finding valuable connections with the same goals as your organization. With distrust in the government at its highest, being the best solution for an opportunity will position you well for winning.
Instantly know how an organization stands in relation to the OMB goals
Streamline knowing high-value contracts that require minority-owned businesses or would like partners with leaders in green energy
Develop rapport with industry, EOP, and Congressional influencers
Prepare for the Revolving Door
Contracts end. The Administration flips. Staffers move to the private sector. Knowing when decision makers leave enables you to keep and build the right relationships pre-RFP. Connect with both political appointees and careers to stay in front of programmatic needs.
Follow the ever-changing staff in the federal government
Identify significant contracts that are ending soon and get to know the staff
Know who stays and goes should new appointments join the administration
Stay Organized Within Your Workflow
No need for you to manually input data to your CRM or deal with duplicate data. Just enjoy building relationships and we've got you covered.
Fill your CRM with accurate and synced data to improve your operations
Compliance with data privacy regulations including CCPA and GDPR
Our experienced team suggests best practices for your unique workflow
Salesforce, Marketo, HubSpot, or API integration
Trusted public sector people intelligence includes key linkages to corporate, nonprofit, media, and advisory organizations