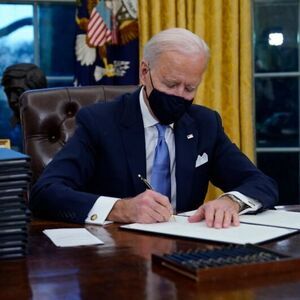 The Senate passed the bipartisan Infrastructure Investment and Jobs Act, also known as BIF, on Aug. 10. To do so, nearly 70 senators from both sides of the aisle voted in favor of moving the legislation to a final vote, including Minority Leader Mitch McConnell (R-KY) who previously stated he was in no rush to pass the legislation. The infrastructure package included $1.2 trillion for items including: roads, bridges, electric vehicles, broadband, water infrastructure, grid resilience, and more. This most recently passed package in the Senate consists of primarily "hard infrastructure" and is a smaller than originally proposed plan. The first step was passing the Budget Resolution, which passed in both chambers by Democrats in August, without Republican support. From there, the Democratic leadership has opted to take a "two-track" legislative strategy, which will result in the House voting on both the bipartisan Infrastructure Investment and Jobs Act at the same that it will vote on the reconciliation measure.
"By putting all of his eggs in two baskets, Biden upped the ante but also created more (opportunities) for building majority coalitions in the two houses," Steven S. Smith, a political scientist at Washington University in St. Louis, stated in the Tampa Bay Times. He continued, "The aggregate cost targets are large and create problems of their own, but he was trying to exploit his momentum and the mood of the country by keeping a focus on just two legislative vehicles." 
Why is this important? 
If passed, BIF will be a historic feat. Even though the "hard infrastructure" package was smaller than the White House's original proposal, the size and scale of the bill has unprecedented levels of funding.
Following the passage of the first infrastructure bill, Congressional Democratic leadership was looking to pass a $3.5 trillion "soft infrastructure" bill consisting of more social policy than the former. This domestic social policy includes things like the expansion of Medicare coverage; extension of child tax credits; provision of paid family and medical leave; and more efforts towards mitigating climate change. Though that is not an exhaustive list, only the broad provisions of President Joe Biden's proposal are known. Since the budget did pass in both chambers, the work remains now for committees to draft allocations for spending. Likely, not all the administration's initial goals will be met as, having slim margins in both the House and the Senate, concessions will need to be made to ensure the Progressive Caucus vote while being cognizant of drafting a bill that centrist Democrats will be able to support, too.
Democratic leadership have been working behind closed doors with key party members in an attempt to "gain near-universal support" of the legislation from various groups in the Democratic party. As of late, however, the division on all sides of Congress has pushed President Biden to step in as the key negotiator-in-chief. Fractures now exist in the Democratic Caucus between both moderates and progressives as neither are willing to accept the current bill "as is." In meetings the President has had separately with the House Progressive Caucus and a bicameral group of centrists, it would appear an agreement has been reached regarding scaling down the contentiously high budget of the Reconciliation Bill. Figures are reported to be anywhere between $1.9 trillion and $2.2 trillion. Notably, work must still be done as this is still much higher than the $1.5 trillion that Senator Joe Manchin (D-W.Va.) said he would like to see the bill at before he would consider voting in support. In addition, Democratic leadership has begun messaging that though this may be a time for "difficult decisions," Democrats may be better off to do "fewer things well." "fewer things well." 
But there's still a catch. 
An important note here is not just the passage of the budget resolution, but its twin-issue of the debt ceiling. If a budget resolution (or a continuing resolution) had not been passed by the end of the fiscal year, the government would shut down. Partisan issues have weighed on the bill's evolution as well. Republican leadership has said that they will not vote to raise the debt ceiling, while Democrats are trying to push through the Build Back Better agenda. Speaking to Punchbowl News, Sen.  McConnell said, "if Senate Democrats want to raise the debt ceiling, they're going to have to do it themselves because no Republicans will vote for it in the current 'environment' on Capitol Hill."  
In response, Senate majority leadership has accepted a compromise with McConnell to temporarily lift the debt ceiling limit until Dec. 3. This all rests on him asking Republican members to stand aside while the Democrats pass a short-term increase. There are limited options with this process. Democrats are already banking on using the budget reconciliation option to pass the "human infrastructure bill." To raise the debt ceiling without Republican support or under the threat of a filibuster would be a monumental challenge. The procedure, as President Biden put it, is "an incredibly complicated, cumbersome process," which would require Senate Democrats to advance a budget resolution, take on a "vote-a-rama" to consider further amendments, then wait for the House to complete its reconciliation process to subsequently pass the legislation.
One alternative for Democrats is to go nuclear. However, getting rid of the legislative filibuster is a risky option and there would be no say in what future consequences there may be.