Our recent analysis, Breaking Down HELP/Energy and Commerce, gave insight into the backgrounds of Members of Congress on the Senate Health, Education, Labor, and Pensions Committee, and the Committee and Energy and Commerce. But what does it take to work on these committees as a staffer? Leadership Connect analyzed the education and career history of these staffers to give you an overview of how they landed these jobs.
While the career experiences of Staff Directors on the Energy and Commerce Committee range prior to their committee appointments, all of them have previous experience on Capitol Hill in senior leadership roles. All but one Staff Director worked previously on the committee, and most of them have experience off Capitol Hill. Other examples include working for federal agencies like the Centers for Disease Control and the Department of Education, mental health nonprofits, and pharmaceutical companies. From the data set evaluated of the four Staff Directors, two have their Masters in Public Policy (MPP) or their Masters in Public Administration (MPA).
The education breakdown across the Energy and Commerce committee shows a majority attended George Washington University for multiple degrees. Nine different staff members went there at some point in their educational tenure — George Washington has the largest presence on the Hill.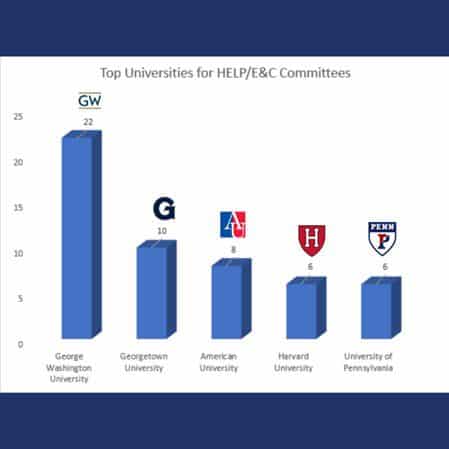 The most common degree on this committee, of course, is a Bachelor of Arts, followed by the Juris Doctorate, with 15 staffers across party lines holding one. On the majority side, in the data we analyzed, six staffers had a degree from Harvard, and six staffers had a degree from the University of Pennsylvania. The other most common schools were George Washington University and Georgetown University. On the minority side, the most common school was George Washington University, followed by Johns Hopkins University and Vanderbilt University.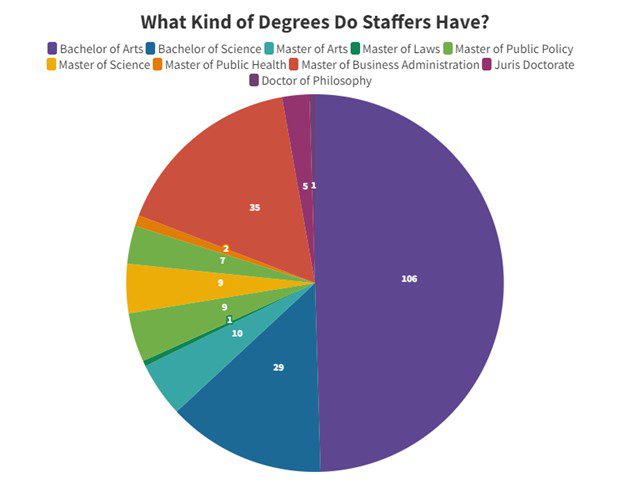 The Senate HELP Committee followed similar educational trends. GWU is the leading university on the HELP committee. While 33 staffers on the majority side have advanced degrees, 14 staffers on the minority side have advanced degrees. Does obtaining an advanced degree guarantee you a position on a committee? That depends on a few things.
Within the Energy and Commerce committee, almost all the staff who have Policy Advisor or Policy Director in their title hold an advanced degree across both party lines. Many of their previous careers include Capitol Hill on committees and personal offices, health nonprofits, policy segments of political campaigns, and COVID agencies in federal and state governments. Both career and education are significant aspects of the E&C committee in order to move into a policy manager role.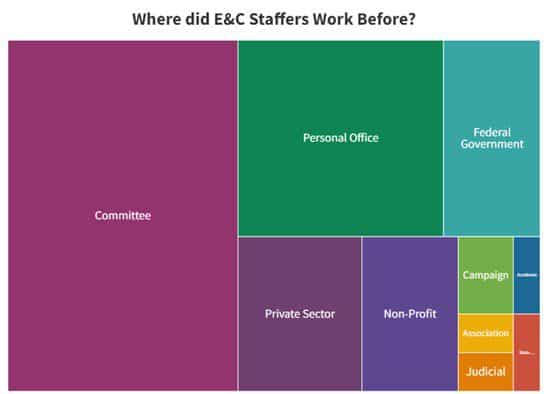 In contrast, the HELP Committee is over twice the size of the E&C and has many more titles for various roles. There are about 20 roles that include policy director or policy manager in the title, yet only four of those filled roles have staff with advanced degrees. Of those without degrees, their years on Capitol Hill in personal offices and working for committees helped them achieve their positions in policy director positions.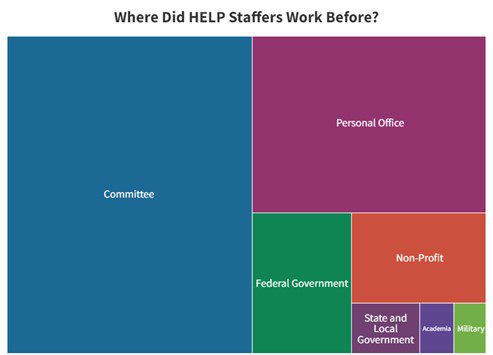 What we can conclude is that previous experience on a committee helps a staffer get onto other committees, and having an advanced degree is not required but helps show how focused you are on a certain policy area. This is not to say that working elsewhere doesn't add to your education and experience; other staffers previously worked with nonprofits, lobbying groups, federal agencies, and campaigns. More than anything else, talk to someone who works on one of these committees and ask them about their experience working and what helped them get where they are today. Interested in seeing a deep dive on another committee or agency? Let Leadership Connect know what you'd like to see in the future as we dive into more Congressional organizations.