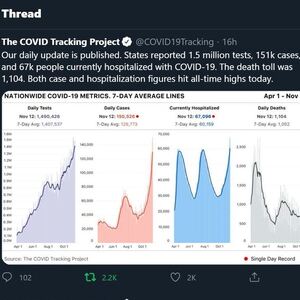 Coverage of the presidential election continues as lawsuits play out. Although ballots in question have been far fewer than margins of victory, Technology Reporter Jack Nicas of The New York Times addressed the biggest claim regarding Dominion Voting Systems.
Update 2:33 p.m. – The final calls have been made with Georgia going to President-Elect Joe Biden, and North Carolina going to President Donald Trump.
While the election scene inched toward the Electoral College, news media (and the world) was straddled with news of a new vaccine from Pfizer Inc. and spiking numbers from COVID-19. The Atlantic's tracking project shows that yesterday, states reported 1.5 million tests, 151k cases, and 67k people currently hospitalized with COVID-19, while the death toll was 1,104. Elsewhere on the news media front, there have been rumblings online of a conservative shift from Facebook to new social medium Parler, and from Fox News to Newsmax and OANN. Will it last? Time will tell.
On to our weekly linkfest:
The New York Times reported more than 21 million viewers across six networks took in the news that President-Elect Joe Biden (who has a new chief of staff) would be the 46th President, an unusually high ratings total for a Saturday morning, while Fox News viewers tuned out at a higher percentage as the coverage went on. Leadership Connect clients can see the whole Biden-Harris Transition Team.

Meanwhile, Axios scoops that President Donald Trump may be eyeing his own subscription digital media service.
Here's how the Associated Press calls elections, and how it all began.

As mentioned above, some conservatives are leaving a fact-checking Facebook for Parler, but that doesn't mean it won't ever face regulation. The BBC gives us a look into the ongoing debate around regulating social media.

Twitter has shared insights into the status of its new regulations created to combat misinformation.

Twitter announced a global release of new carousel ads. In its beta test, Twitter saw on average a ~15% increase in click-through rate relative to single-asset formats, for website carousels.* And for app carousels, it saw on average a ~24% increase in installs per impression relative to single-asset formats.*

Related: During the pandemic, social media has become even more integral to succeeding as a real estate agent. It will continue to be key in 2021.

Disney reports a decline in fourth quarter revenue, but Disney+ has grown to 73 million subscribers.
Movers & Shakers

The New Yorker has fired writer Jeffrey Toobin, who is still on leave as CNN's chief legal analyst.
Hearst said Debi Chirichella will be the new President of its magazine group. Chirichella has been acting president since former president Troy Young quit.

Deals/Restructuring

Ellen Chang "launched a new program, Your Press Pass, to help student reporters and other journalists connect with other media."
Bill Gates and Rashida Jones are starting a podcast. The first episode will feature Dr. Anthony Fauci and will air on Nov. 16.
Here's to a better Friday the 13th than the last one.
— Megan Kashtan and Wayne McKenzie contributed to this report.