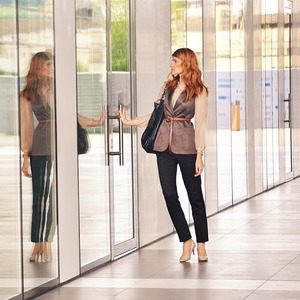 In honor of Women's History Month, we recognize the significant impact women have made in the nonprofit sector. Nonprofit advocacy organizations with specific missions supporting the advancement of women help bridge the gender gap, provide professional and personal development resources, raise awareness of challenges facing women, and introduce legislation to protect the rights of women. But what about the other side?
The Chronical of Philanthropy reports that about 70% of employees in nonprofits are women, but their representation in leadership positions in comparison to men is marred by how long it takes to get there — and women CEOs at nonprofits earn 75% of what men do. One begins to wonder who are the pioneers and first female presidents in nonprofits leading the way in male-dominated industries.
Firsts in Nonprofits
Dr. Katherine A. W. McGrady, PhD a graduate of University of Michigan's Macromolecular Science and Engineering Program, became the first woman president & CEO of the Center for Naval Analyses in 2015 after starting as an analyst, and then holding several senior leadership roles, becoming the first chief operating officer in 2009.
Dr. Glenda Baskin Glover serves as Tennessee State University's 8th president and first female one. She is one of two African American women in the nation to hold the Ph.D-CPA-JD combination.
Maria Korsnic, Nuclear Energy Institute's President & CEO, made her way to the helm after being the first female operator and Chief Nuclear Officer at a nuclear power plant. She is one of two women who have held the position of CNO. Maria Lacal is the second, currently serving as the CNO for Arizona Public Service Co.
Biotechnology Innovation Organization (BIO) CEO Dr. Michelle T. McMurry-Heath, MD, PhD,  is the first black graduate of the Duke University combined MD/Ph.D. Medical Scientist Training Program.
Milken Institute's inaugural president for the Center for Advancing the America Dream, Dr. Kerry Murphy Healey was also the first woman president of Babson College.
This is just sample of extraordinary women making it to the top. Their career journeys show the hard work and dedication required to build the credibility and foundation for leading premiere organizations.
Read more:  Trends Show Promise for Women in Government Affairs
The National Council of Nonprofits believes that embracing diversity, equity, and inclusion as organizational values is a way to intentionally make space for positive outcomes to flourish, whether in direct services or in the nonprofit capacity building or public policy spheres. Women are just one segment of the underrepresented. Will the current trend continue? Will we see improvement in the future?
Nonprofits that embrace diversity strategies will hopefully make an impact for the next generation of women leaders.