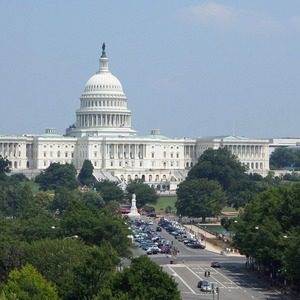 On Tuesday November 4th, 35 Senate elections were held to determine who would make up the 117th Congress. In the weeks preceding the elections, many polls indicated that the Senate would see a Blue swell, not quite a wave, but enough to see the Senate flip, leaving Democrats in the majority. After nearly a week of counting votes, it seems less likely that the Republicans will lose their majority status, but with four races left, the Senate is currently in a dead heat for control. Both sides have successfully claimed 48 seats, with a net loss of one seat for the Senate Republicans; it could take until runoff elections, due to take place in early January, to determine who will come out on top.  
Of the four remaining races, the North Carolina race is likely to go to Republican incumbent Thom Tillis, but currently neither Tillis nor challenger Cal Cunningham have the 50% of the vote needed to declare victory. The Alaska Senate race will also likely go to the Republican incumbent Dan Sullivan. He currently leads by 30 points, but with only 50% of the expected vote tallied, it may be a few more days before the results are official. In Georgia, both Senate races will move to a runoff in January. Note Stacey Abrams' role in the state. To maintain control of the Senate, Republicans will need to hold onto their seats in Alaska and North Carolina and claim victory in at least one of the two runoff races. For the Democrats to flip the Senate, they will need to win at least two of the four remaining races, bringing the Senate to a 50-50 party split. This would entail Vice President-Elect Kamala Harris being the tie breaker for party power, swinging the majority to the Democrats.  
Here is a full breakdown of the 2020 U.S. Senate elections: 
Races That Have Yet to be Called  
Seats that Flipped  
Alabama

 – Challenger 

Tommy 

Tuberville

 (R) defeated Incumbent 

Doug 

Jones

, flipping this blue seat red, in what was supposed to be a razor thin race, Tuberville defeated Jones by nearly 500,000 votes

.

 

 

Arizona

 – Challenger 

Mike Kelly

 (D) won this very tight race against incumbent 

Martha McSally

, flipping this seat from red to Blue

.

 

Colorado

 – Challenger 

John Hickenlooper

 (D) defeat

ed

 incumbent 

Cory Gardner

 

with a substantial lead, 

flipping the state from red to blue

.

 

 
Close Races 
Races That Were Supposed to be Close 
Montana

 – Incumbent 

Steve 

Daines

 (R) defeated challenger 

Steve 

Bullock

 with a solid majority of the votes

. 

 

South Carolina

 – Incumbent 

Lindsey 

Graham

 (R) defeats challenger

 

Jaime

 Harrison

 in this hotly contested race 

in which

 

pre-election polls gave the impression of a razor thin race where the Democrats would have the opportunity to flip a Republican strong-hold.

 
Open Races 
Incumbents That Won Reelection