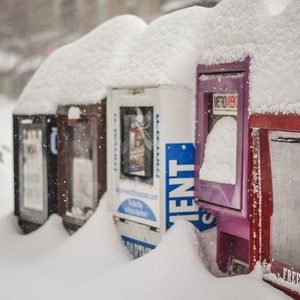 Beyond political Movers & Shakers and some big media acquisitions, local journalism is once again showing its value, not just for private/public sector accountability but for critical, on-the-ground community news.
Not only does The Texas Tribune's Environment Reporter Erin Douglas find out that Texas was "seconds and minutes" away from catastrophic monthslong blackouts; Jolie McCullough comes off the criminal justice beat to announce that the paper is sending texts of critical information to residents with spotty internet connections. The Austin American-Statesman stepped up as well, as tweeted by Executive Editor John Bridges.
.@TexasTribune has started a text message news delivery system while internet is spotty for many Texans.

This text told me what I wanted to hear from the city today! Text "hello" to 512-967-6919 to sign up for updates. pic.twitter.com/GxZu0aqkn0

— Jolie McCullough (@jsmccullou) February 19, 2021
Douglas, McCullough and Higher Education reporter Kate McGee also teamed up to investigate Texas' power grid failure, and decisions not to winterize infrastructure. The AP digs into the backlash and winterizing costs here. Meanwhile, national media and Twitter trends forced Sen. Ted Cruz back to Texas. And KHOU has info on how to help Texas residents during the winter storm.
Continuing on the local journalism track, see this statement from former Presidential candidate Andrew Yang.
This includes the New York Daily News – new ownership should commit to preserve and expand newsroom jobs as part of the acquisition. We need more local reporters not fewer. https://t.co/odgoM0yrve

— Andrew Yang🧢🗽🇺🇸 (@AndrewYang) February 17, 2021
Yang, referring to the Tribune sale mentioned below, is trying to get the Local Journalism Sustainability Act through Congress.
M&A and alliance news this week includes:
Alden Global Capital agreed to acquire Tribune Publishing (including The Daily News) in a deal valued at $630 million. Alden already owned a 32% stake.
As Leadership Connect targets podcast listings, we're taking stock of the industry's trusted sources. Music Business Worldwide reports: iHeart's acquisition of Triton Digital for $230 million joins a tidal wave of podcast acquisitions in the music and audio space of late, with Spotify spending over $800 million on podcast-specific buyouts in the past two years.
News Corp. agreed to a three-year partnership with Google to provide journalism from its news sites around the world in return for "significant payments" by Google, which also touted its News Showcase that has 500 news partnerships.

Facebook seems to be going in the opposite direction in Australia because of new legislation which could gain traction elsewhere.
Movers & Shakers:
Part of the mission for this political-centric news media intelligence briefing is to help filter out the news noise. Note some comprehensive reporting on three major: ICE, New York nursing homes and the GameStop congressional hearing.
Law & Crime: There are a few key differences between President Joe Biden's ICE enforcement priorities and those under former President Barack Obama.
The Hill: Whether New York Gov. Andrew Cuomo's recent woes get in the way of his 2022 reelection remains an open question.
Daily Beast: The hotly-anticipated hearing roped in the heads of Robinhood and Reddit, along with Melvin Capital, which suffered huge losses in the GameStop short squeeze. Congress also grilled the chief of Citadel Securities.
Two of the pillars of filtering fatty reporting, or getting any reporting at all, are firsthand accounts and investigations. We leave you with these words from Rep. Lori Ehrlich (D-Essex-8), who spoke to The Berkshire Eagle about news deserts in states like Massachusetts:
Local journalists tell the community stories that bind us together. They tell us who we are, and where we've been and where we're going. Local news is also essential to ensuring a healthy democracy.
— Megan Kashtan and Wayne McKenzie contributed to this briefing.