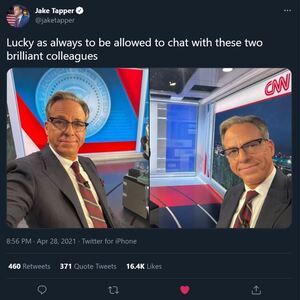 Have you ever had a conversation with a friend or colleague about how personal finance should be a required course in high school or earlier? It's a useful and practically invaluable skillset. Another subject young and seasoned adults would benefit from is media analysis. Or, how to spot fake news, a term now synonymous with misinformation, propaganda and reporting without context, or with bad sourcing. Then there's the amplification of false claims that create an added twist, claims that could cause a person to make different decisions about shopping, voting, or their health.
It's why we're highlighting a particular Mover & Shakers member this week: Buzzfeed Media Editor Craig Silverman, who's heading to ProPublica to cover voting, platforms, disinformation and online manipulation. His brand of filtering could have been useful for anyone wondering about President Joe Biden's plans to drop in on your bbq, or about Vice President Kamala Harris' book sales – the reporter that wrote that false story resigned. Fact-checkers like CNN's Daniel Dale came to prominence over the past four years, and he of course is still on the job:
This stuff is completely imaginary. Biden has not proposed any limit on Americans' meat consumption.

What happened: 1) The Daily Mail ran an article that dishonestly connected Biden's climate plan with a not-at-all-about-Biden study. 2) Others on the right just ran with this. pic.twitter.com/VRB52TPmUj

— Daniel Dale (@ddale8) April 25, 2021
The mea culpa came three days later but as we know in today's media stage, that doesn't stop the spread. Regarding the 2020 presidential election, Newsmax issued a retraction and apology just before 6 p.m. on Friday to Dominion Voting Systems and one if its employees (who has been in hiding after receiving death threats) for falsely claiming election manipulation.
Silverman is all too familiar. He has been working on fact-checking since the mid-aughts. He's written a book on the subject, taught about journalistic transparency and accuracy at The Poynter Institute, and published a free-to-read research paper ('Lies, Damn Lies and Viral Content') in 2015 for the Tow Center for Digital Journalism at Columbia University. With more people gaining access to different stream of information all over the world, the role of fact-checker will continue to gain steam. Honorable mention goes to another member of this round's select Movers & Shakers out of 100+ moves:
Capping this briefing, take your pick from our hotlinks on News of Note:
Our own Megan Kashtan is Tracking Proposed Social Media Legislation in America.
ICYMI: The COVID Tracking Project wrapped up operations. Here's how they gathered the data so many organizations came to rely on.
Data Journalism: To identify the 1,000 most influential climate scientists, Reuters created the Hot List, which is a combination of three rankings.
Trump administration book deals are under a microscope.
President Biden touts police reform bill in the wake of Derek Chauvin's conviction in the murder of George Floyd.
The Washington Post Magazine is looking for journalists to contribute to a special issue about the diminished state of local and community news in the U.S.
Axios scoop: The AP is doubling down on its local news experiment called StoryShare, which helped newsrooms quickly share information around COVID-19.
How local TV stations plan to remain relevant as viewers shift to streaming.
Media consolidation affects local and national news coverage. Current deals:
Nielsen data shows an estimated 26.9 million people tuned in to watch Biden's first address to a Joint Session of Congress.
Biden's speech was fact-checked. On the lighter side of sports, CNN's Jake Tapper had to check himself after a Twitter algorithm fumble.
Better cropping pic.twitter.com/JTwWaJXBUu

— Jake Tapper (@jaketapper) April 29, 2021