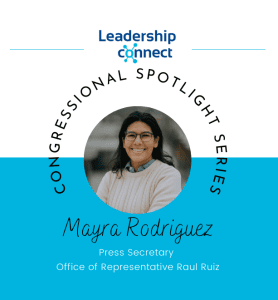 This week, we had the opportunity to talk with Mayra Rodriguez, Press Secretary for the Office of Representative Raul Ruiz (D-CA, 25).
Can you tell me about your career path that you've taken that's led you to where you are now?
Upon graduating from the University of Florida, I obtained my first internship on the Hill as a legislative intern, where I made it my goal to foster at least one genuine connection, and I did. My supervisor during this internship was the one to recommend me for my second internship on the Hill, where I was able to work closely with the communications team and understand their work and how they know the in-and-outs of our legislative branch. Like in the previous office, I also made it my goal to keep fostering more authentic relationships and continue the ones I had already begun.
After my time on the Hill, my supervisor from the first office recommended me again, for a Communications Fellowship with CHC BOLD PAC, where I was the first fellow in the program. This allowed me to hone in on the skills I had collected over the past year and put them into action. Once my fellowship ended, I landed my first full time job as a Digital Associate at Grassroots Analytics working on digital fundraising for candidates running for federal, state, or local races and non-profit organizations. After a year and three months, I decided it was time to go back to the Hill, this time as a full-time staffer and master the skills I had been working on for almost three years now. After searching for months for the right office to work for and connecting with the networks I had made over the years, I landed back in Congressman Dr. Ruiz's office, where I had completed my second internship a couple years back. Now I serve as his Press Secretary.
What policy issues are you most interested/passionate about?
Before realizing I had a passion for communications, I majored in Criminology with a minor in Latin American Studies and hoped to end up at a federal agency working on foreign intelligence and national security after graduation. Now, I've combined my passion for communications and foreign intelligence/national security and hope to do this line of work in the future. Although I have no formal background on the issue, such as education or professional experience, I keep up with current events on the issue and try to stay in the loop as much as possible given my current role.
The way I balance my professional responsibilities is by ensuring I know what is a priority for the office at the moment and work from there.
Professional development is essential at all levels. How do you balance your responsibilities at work and expand your skill set?
Over the course of the month that I have been working on the Hill, I have found myself balancing a lot of responsibilities while also learning as much as I can about my role and how a congressional office's communication strategy plays out. I am the type to write things out in my journal and flag emails that require my attention again at a later time. Additionally, I am trying to attend more training sessions that are offered through the House that will help me better my skills in my current role.
If you could give one piece of advice to someone interested in working on the hill, what would it be?
My piece of advice for someone wanting to work on the Hill would be: make those genuine connections. These are your mentors, supervisors, or old professors who have presented you with opportunities in the past or someone you clicked with at a networking event. As a Latina on the Hill, I found strong connections with people I knew were there to uplift me. Building these genuine connections for me was essential in getting to the Hill and I know they'll be essential in the future. I am personally more of a quality of quantity type of person. It's also more than okay if your journey looks different than everyone else's. It took me two internships, a fellowship, and my first full-time job after graduation before I obtained my first full time position on the Hill. It takes patience for some of us to get here, and that's okay.
To be featured or learn more, reach out to Gabi Thomas, and spread the word to any colleagues who would be interested.
Be sure to follow the LinkedIn profile for more news and to see who is featured each week!