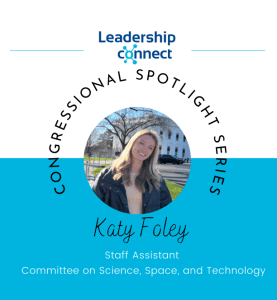 This week, we had the opportunity to talk with Katy Foley, Staff Assistant for the Committee on Science, Space, and Technology.
Can you tell me about your career path that you've taken that's led you to where you are now?
My first experience on the Hill was in the Summer of 2020 when I interned for the House Oversight Committee. I assisted staff with legislative research, prep for hearings and general administrative duties. Then, shortly after graduating from the University of Alabama, I moved up to D.C. to intern for the Senate Republican Conference (SRC). This internship allowed me to work a little more with the press/communications side of things which was a great experience.
I was also fortunate enough to work with Senator Barrasso's (R-WY) personal staff, since he is Chair at SRC. In this capacity I got exposure to constituent relations and front office tasks. After my internship with the SRC, I got hired as a Staff Assistant with the House Committee on Science Space and Technology, where I am currently employed. Here at House Science, I help the team prepare for hearing and markups, assist with room reservations for SST Members/ agencies, cover the front office phones, and greet guests.
What policy issues are you most interested/passionate about?
Like many Americans I am passionate about maintaining integrity in our elections, reducing the size and scope of government power, and protecting our civil liberties. During my time here at House Science I have become more interested in protecting data privacy, artificial intelligence, and competitiveness in tech advancements.
How do you manage competing priorities and deadlines when working on multiple legislative projects at once?
Being a staff assistant, I don't often juggle as many legislative projects as fellow LAs or LCs might, with that being said, organization is key with any position on the Hill. When working with hearing and markup materials it's important to continually talk to senior/professional staff to ensure we are putting out the most updated amendments, hearing charters, and question packets. By having good communication with staff, it assures that everything set out for our Members, witnesses, and press is prepared.
If you could give one piece of advice to someone interested in working on the hill, what would it be?
Working on the Hill is such an amazing experience and can really help you grow your connections. Networking is an essential part of any position here. Reach out to staffers to grab coffee, ask them about their position, education, background, and how they got started. This will help you gain insight into what position you see yourself in and how to get there. Hill staffers are likely more than happy to help connect you! Put in extra hours to meet and chat with people, it will pay off.
To be featured or learn more, reach out to Gabi Thomas, and spread the word to any colleagues who would be interested.
Be sure to follow the LinkedIn profile for more news and to see who is featured each week!