Unveiling Passion for Policy and Advocacy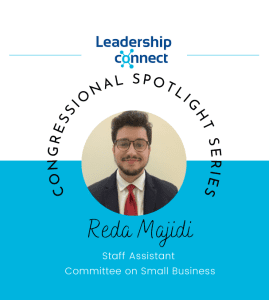 This week, we spoke to Reda Majidi, Staff Assistant for the House Committee on Small Business.
Can you tell me about your career path that you've taken that's led you to where you are now?
In college, I was professionally addled and without a clear sense of the direction I wanted to pursue. In my junior year, while deep in the throughs of season 3 of House of Cards, I decided I wanted to gain more exposure to the U.S. political/government systems – so I interned for my hometown representative, Congressman Pete Olson in both his DC and district office.   
After graduating, I was employed as a gym salesperson, paralegal, and even as a translator for a company based in Morocco however none of these roles satiated me internally. I remember once, I was stuck in the middle of Houston traffic when I thought to myself, "Wow, I would do anything to be back in Rayburn right now." I knew I always wanted to come back to DC, but I was too comfortable where I was in life and did not want to leave that comfort.  
When COVID hit and the world halted, I finally was allowed to construct a return plan to the Hill. On January of last year, I moved to DC to embark on a master's at GW and an internship with the Appropriations Committee. After about a year of interning in different offices, I became a staff assistant for the Committee on Small Business in April. Been on cloud 9 ever since. 
What policy issues are you most interested/passionate about?
I have always had a deep-rooted interest in foreign policy. I was fortunate to grow up in a household that was constantly attentive to worldly affairs and their implications – the only thing my parents had on TV was the news. Additionally, as the son of Moroccan immigrants, my familial background predisposed me to an interest in the Middle East and Africa. This sharpened my appreciation for US global relations – especially in those regions and inspired me to focus my minor in college on international relations. As I interned and worked for different Members and offices, I grew a strong penchant for agriculture policy and small business policy.
How do you manage competing priorities and deadlines when working on multiple legislative projects at once? 
Organizational skills are imperative for maintaining a career in this city. In this nascent role of mine, my ability to exercise independent discretion is rather tethered at times. I cannot just be like "I think John's project is more important than Sarah's, therefore I will do John's first." One thing that helps me personally is a daily consultation with my superiors to make sure we are all on the same page. This increases the clarity of my responsibilities and allows me to understand how to prioritize which deadlines and projects come first. Another thing I found helpful is writing EVERYTHING down. I have a "journal" that serves as my daily guide on what tasks have been completed and which ones are still incomplete. I have to start and end my day with my journal at hand. 
I learned to channel any negativity as an opportunity to learn and more importantly as motivation.
If you could give one piece of advice to someone interested in working on the hill, what would it be?
I think the one piece of advice I wish someone would have given me would be – EXPECT and EMBRACE the struggle. I was an elite student out of college, had strong work experience, and a pleasant persona (well, at least I hope) yet I still had over 15 interviews before I found my first gig.
In the first half of my search – I grew impatient, disheartened, and hopeless. This caused a blow to my confidence and made me approach interviews nervously by constantly thinking "If I don't get this job, I am not good enough." This type of attitude posed as a negative cloud over my head and was not fruitful. I was lucky to be in a good office and have a strong support group that really pushed me to change my perspective.
I grew to approach matters with the mindset of "If this doesn't work, what can I learn to improve for next time" and that has done wonders for me. Getting a job here is difficult to say the least…however, that's what makes the goal a whole lot sweeter when accomplished. You can only enjoy the view from the top, after you climbed from the bottom.
To be featured or learn more, reach out to Gabi Thomas, and spread the word to any colleagues who would be interested.
Be sure to follow the LinkedIn profile for more news and to see who is featured each week!