The Leadership Connect data science team looked at federal awards with public universities over the past five years to analyze how much government work they receive and which offices work with each school. We then compare a school to their peers. We are posting our findings for the Top 20 Public schools according to US News' popular ranking.
The University of California, Berkeley ties with the University of California, Los Angeles at #1.
Some individuals who may have been involved in federal spend decisions with the university include Governor Gavin Newsom; their Deputy Chief of Staff Jason Elliott; University of California, Berkeley Chancellor Dr. Carol Tecla Christ; Associate Vice Chancellor for Communications and Public Affairs Diana Harvey; and Assistant Chancellor, Government and Community Relations Christine Treadway.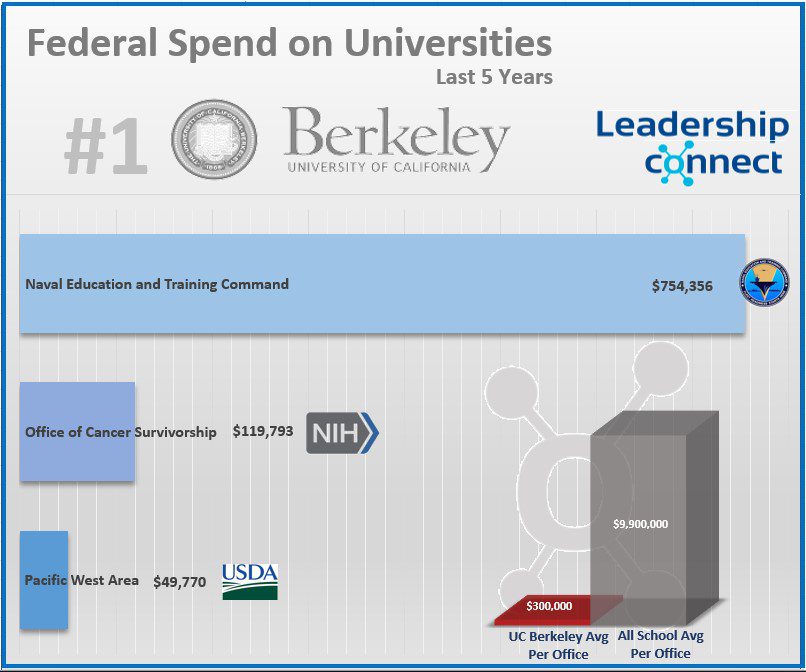 | | | | | |
| --- | --- | --- | --- | --- |
| Funding Office Name | Funding Department/Agency | Total Number of Awards | Top NAICS Codes | Total Dollars Obligated |
| Naval Education and Training Command | United States Department of Defense | 4 | 923110 | $754,356 |
| Office of Cancer Survivorship | United States Department of Health and Human Services | 3 | 611710 | $119,793 |
| Pacific West Area | United States Department of Agriculture | 1 | 611710 | $49,770 |